Women from around the world compete to be next Miss Universe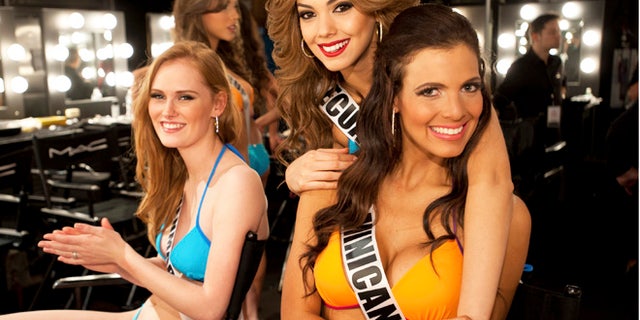 Women from around the world are preparing to don evening gowns, show their interview skills and strut in swimsuits on Wednesday in hopes of becoming the next Miss Universe.
Miss Universe 2011 Leila Lopes of Angola will crown her successor during the competition featuring 89 contestants at the Planet Hollywood casino on the Las Vegas Strip.
The panel of 10 judges includes singer Cee Lo Green, Pablo Sandoval of the World Series champion Giants, "Iron Chef" star Masaharu Morimoto, and U.S. Olympic beach volleyball gold medalist Kerri Walsh Jennings.
The 61st annual Miss Universe show will also feature performances by the band Train and Australian singer Timomatic.
The Miss Universe Organization is co-owned by NBC and Donald Trump. The pageant is returning to Las Vegas after being held in Sao Paulo last year.
Andy Cohen and Giuliana Rancic are returning to host.
The group of contestants from six continents was expected to be cut to 16 soon after the start of the show based on preliminary competitions.
Organizers had considered holding the contest in the popular Dominican Republic tourist city of Punta Cana, but Miss Universe Organization president Paula Shugart said that country's financial crisis proved to be too much of an obstacle.
The diverse group of contestants spent the past two weeks in Las Vegas, where they posed in hardhats at a hotel ground-breaking, took a painting lesson, and pranked hotel guests by hiding in their rooms.
On the eve of the pageant, the Miss Universe Organization announced it had won a defamation suit against a woman who claimed this year's Miss USA contest, also owned by Trump, was fixed.
The winner of the Miss USA crown goes on to represent her country in the Miss Universe contest.
Contestants cannot have been married or have children. They must be younger than 27 and older than 18 by Feb. 1 of the competition year.
The pageant started as a local revue in Long Beach, California, organized by Catalina Swimwear. It is not affiliated with the Miss America pageant.