Who is WWE executive Shane McMahon?
Shane McMahon, an executive with World Wrestling Entertainment (WWE), was in a helicopter which made an emergency landing on Wednesday in the ocean off New York.
McMahon survived the incident, and has described it as "unnerving." Below, a quick look at the WWE figure.
What do we know about his family?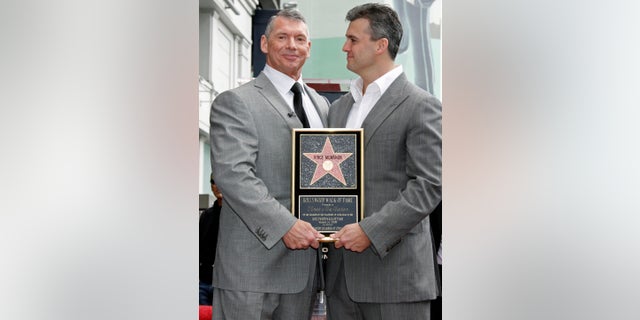 Shane McMahon's father is WWE CEO Vince McMahon, and his mother is Linda McMahon, who is in charge of the Small Business Administration in the Trump administration. Linda McMahon previously unsuccessfully ran twice for Senate.
Shane McMahon's sister, Stephanie McMahon, and her husband Paul Levesque - known by his wrestling name Triple H - are also both WWE executives.
McMahon and his wife Marissa have three children.
WWE AND PRESIDENT TRUMP: WHAT TO KNOW
What do we know about his history with the WWE ?
McMahon has worked in a number of WWE departments, including marketing and digital, according to a 2014 BuzzFeed profile. He's also known for wrestling in the ring. His nickname is "Shane-O-Mac."
"He surprised the WWE Universe with his athletic ability and willingness to climb, literally, to new heights and take a leap of faith, crashing onto his opponents below," his WWE.com page says. McMahon is also known for his daredevil stunts.
McMahon resigned from WWE in 2009. He became CEO of a video-on-demand company in China called YOU on Demand, according to BuzzFeed.
He later stepped down from his CEO position with YOU on Demand and remained chairman of the board, according to a July 2013 company press release. The company was later named WeCast Network. Its website lists McMahon as its founder and vice chairman.
McMahon returned to WWE in an episode of "Raw" in February 2016. He's now commissioner of the wrestling program SmackDown LIVE.
What do we know about the helicopter landing?
Nobody was hurt. McMahon was the passenger in the Robinson R 44 helicopter that came down in the Atlantic Ocean off of Long Island's Gilgo Beach.
"It was very unnerving," McMahon said to reporters later. But the pilot "was super calm which made me super calm and we landed perfectly."
"I would like to thank our pilot, Mario, who did a heroic job of landing us safely in the water," he told WWE.com.
The helicopter took off from Westchester County Airport in White Plains, the Federal Aviation Administration (FAA) said. The pilot issued a mayday call before going into the water, and a commercial flight heading to Kennedy International Airport heard it and relayed it to FAA controllers at a radar facility.
It was not yet clear what went wrong.
The Associated Press contributed to this report.