Where the stars are partying in Indy for the Super Bowl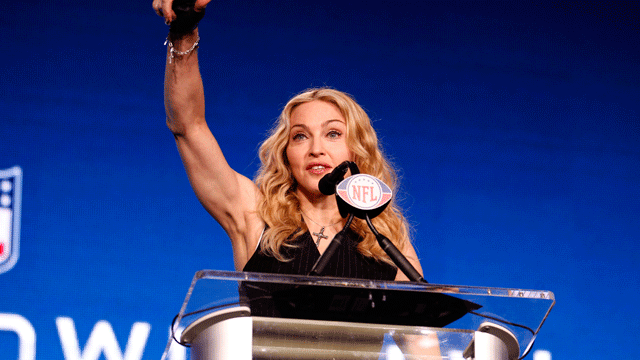 Indianapolis is preparing to host its first Super Bowl this Sunday, and locals, sports fans, thrill seekers and celebrities are already letting loose ahead of the battle between the New York Giants and the New England Patriots. So where are the hottest places to party, and what big names can you expect to see reveling amid the madness of the coming days?
Luxury car giant Audi is not only back with its fifth consecutive ad to air during the big game, and the brand will also host an uber-exclusive, private event in the Penthouse of the Conrad Hotel on Friday evening. In the past, the popular party has drawn in the likes of Demi Moore, Ashton Kutcher, Justin Timberlake, Jessica Alba, Hilary Swank and Rob Lowe. And this year, we're told Erin Andrews, Mary J. Blige, Neil Patrick Harris, Spike Lee, Aaron Paul and Kellan Lutz are just some of the big names slated to stop by.
Always one of the most coveted invitations of the year, ESPN The Magazine's "NEXT" event this year will shake down on Friday night with a special performance by Drake, and an A-list crowd including Michael Douglas, Jerry Bruckheimer, Joe Jonas, Kate Mara, Nick Lachey and the Hilton sisters.
Men's magazine Maxim is also getting in on all the action, and will welcome 1,500 invited guests to the State Fairgrounds on Saturday night to experience Maxim's Hall of Heroes. The Gotham City-themed affair will have bars stocked with everything from Patron Tequila to Coke Zero to Heineken, and partygoers are urged to keep their eyes peeled for Will.iam, Tom Colicchio, Dave Annable and more.
Meanwhile, over at The Crane Bay, Rolling Stone will celebrate the game and Bacardi's 150th Anniversary with a party of epic proportions, and performances by LMFAO, Lupe Fiasco, Cobra Starship and Gym Class Heroes. So who might one star spot? Anna Faris, Carson Daly, Marc Anthony, Sherri Shepherd and Jack McBrayer. And only the most stylish stars will have the velvet rope lifted for them at the Lacoste-helmed GQ "Style Classics" affair at The Stutz. Hosted by LL Cool J, the likes of Andy Roddick and Terrell Owens are expected to join the VIP crowd.
DIRECTV's Sixth Annual Celebrity Beach Bowl will kick off Saturday afternoon as Victory Field is transformed into the world's largest indoor beach, complete with over one million pounds of freshly poured sand. A mix of sports stars and Hollywood types will then battle it out over two, 20-minute halves. In previous years, we've seen everyone from Marissa Miller to Alex Rodriguez to Chase Crawford to Josh Duhamel get down and dirty, and this year is set to be no exception when it comes to talent. The Fray will also be there, entertaining the crowd with sings from their new album Scars and Stories.
DIRECTV and Mark Cuban's HDNet will try to keep up the pace with an upscale "Invite Only" nightclub-inspired soirée that night, hosted by Giants' QB Eli Manning's brother Peyton, with a special musical performance by Katy Perry.
Speaking of tradition, the 9th Annual "Leather and Laces" bash is likely to bring a touch of "glamour" to the ultimate sports weekend, and its double trouble. Jenny McCarthy, Carmen Electra, and Jennifer "JWoww" Farley will host the festivities on Friday night down at the Regions Bank Tower, while Hugh Hefner's former leading ladies Kendra Wilkinson, Bridget Marquardt and Holly Madison will reunite to get the crowd hopping on Saturday.
Speaking of Playboy, no Super Bowl weekend would be complete without a party sponsored by the eponymous men's mag. This year, Playboy's "Carnival Mystique" party will take place Friday at the Bud Light Hotel, with expected attendees Chris Evans, Jessica Szohr, Chord Overstreet, Brandon Marshall, Jon Hamm and most importantly: 16 Playboy Playmates.
Then there is the buzz worthy destination "The Fieldhouse." Located at the Madison Avenue Athletic club, The Fieldhouse will bring to life the annual popchips-sponsored NetJets Super Bowl party on Saturday, and later that night will be morphed into Casa Don Julio for a special dinner and party, before joining forces with New York hotspot 1OAK for a wild night. Entertainment industry folk including Emmanuelle Chriqui, Chris Evans and Jon Hamm have been tipped to walk through the door. In addition, for bigwigs who didn't score a seat at Sunday's game, The Fieldhouse will also host a Super Bowl Tailgate and Viewing Party for lucky invited guests.
And although Indianapolis is considered one of the nation's best sports cities, some are skeptical that it will live up to the star-saturated Super Bowl cities of previous years like Miami and New Orleans.
"Indianapolis is the site of zero pop culture reality shows. There's never been a 'Real Housewives of Indianapolis,' an 'A-list Indianapolis,' even a 'Real World, Indy,'" added Los Angeles-based pop culture columnist, Mikey Glazer. "With this weekend's Super Bowl bringing the pop culture focus to the Midwest, my thought has been: 'If Bravo's never been there, is it worth going?'"
No reality shows = not cool? An interesting yardstick, for sure.