Victoria Beckham addresses rumors of a split from husband David Beckham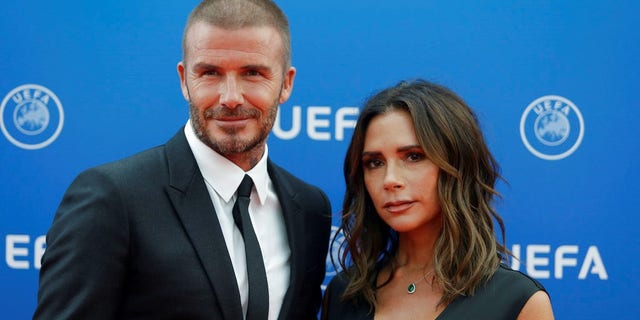 Victoria Beckham appeared to deny rumors she and husband David are splitting, saying they are "stronger together" in the latest British Vogue issue featuring the couple and their four children.
In an interview in the magazine's October issue, the former Spice Girl member said she and David Beckham have learned to ignore "the nonsense" news surrounding their marriage. The couple's relationship has been bogged down by divorce rumors in recent months.
"People have been making things up about our relationship for 20 years, so David and I are pretty used to ignoring the nonsense and just carrying on as normal," she said. "But these things have a wider effect on the people around us, and that's unfair."
"We both realize that we are stronger together than we are as individuals," Beckham continued. "Would either of us be in the position that we are in now had we not met and been together all those years ago?"
DAVID AND VICTORIA BECKHAM SLAM 'CROCK OF S---' DIVORCE RUMORS
The singer-turned-fashion designer said the Beckham brand is "all about the family unit."
"We are much stronger, the six of us, than we would be if we were individuals. We respect that family bond and that is key," she said.
Beckham graces the magazine's cover with her four children — Harper, 7; Cruz, 13; Romeo, 16; and Brooklyn, 19. David Beckham also makes an appearance in the spread, with a photo of he and Victoria Beckham sitting on the grass as their four children hold up water guns.
The couple also appear together in a second cover for the October issue. Beckham posted the cover on Instagram.
"Second @britishvogue October cover. Thank you @davidbeckham for all your support in building my dream and business over the past ten years, I love you," she captioned the post.
Victoria and David Beckham were forced to release a statement in June after rumors of their split became one of the most talked about topics.
A spokeswoman for the Beckhams said the rumor was "a lot of Chinese whispers."
"There is no statement due, no divorce, and a lot of Chinese whispers and fake social media news," the spokeswoman said. "This is all very bizarre and an embarrassing waste of time."
Another rep said the divorce claim was "a crock of s---."