Venus In Leather: Salma Hayek Makes The Scene At Milan Fashion Week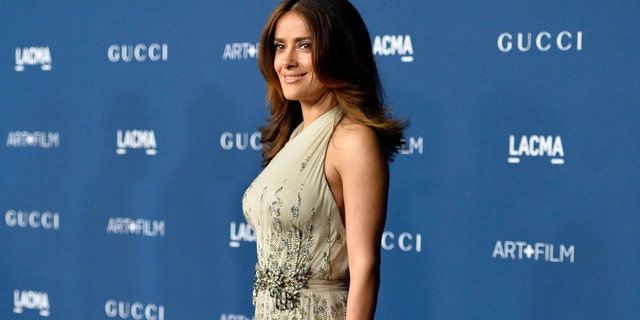 MILAN (AP) – Salma Hayek gushed over the softness of Gucci's lusciously textured looks for next winter — from supple leather to shaggy fur.
"I love it. I want to touch everything. It's so soft, and so beautiful," Hayek said after the womenswear preview show for next fall and winter that marked the official launch of Milan Fashion Week on Tuesday.
Hayek, wearing a mod leather cap with a mini-skirt and biker jacket, conferred frequently with Vogue Italia's Franca Sozzani on one side as her husband Francois-Henri-Pinault, the CEO of the French conglomerate Kering, which owns Gucci, sat on the other. Hayek is a close friend of designer Frida Giannini and the two work together on the Gucci campaign "Chime for Change," that is all about female empowerment — a mood that comes across loud and clear in Giannini's looks for next winter.
"It's a very special relationship for me," Hayek said, citing both the campaign they collaborate on and Hayek's work on the Kering board. "I also love her clothes. It's always a surprise. Something a little pure but with an oomph. There's always something unforgettable."
Hayek confessed her dark leather look, with a purple fringe bag and mid-calf dark high-heeled boots, were from last season. Next season, Giannini goes softer with both the palate and the feel — even if sticking with decidedly Gucci and winter materials like leather and fur. The colors were snatched from your favorite Crayola box of yesteryear: cornflower blue, sage green, brushed pink blush — set off by neutrals in tan, black and camel.
A-line Nappa leather mini dresses had ruffled fronts — a testament to the suppleness of the materials. Waistlines were higher, and hemlines were short, showing off knee-high leather high-heeled boots. Suits were slim-fitting, contrasting nicely with shaggy colored furs that give a carefree flounce with every step. For evening wear, there were romantic leather mini-dresses with bejeweled tops.
The vibe was decidedly '60s and a fitting match for the mod mariner looks that Giannini showed in January for next winter's men's line.
Follow us on twitter.com/foxnewslatino
Like us at facebook.com/foxnewslatino