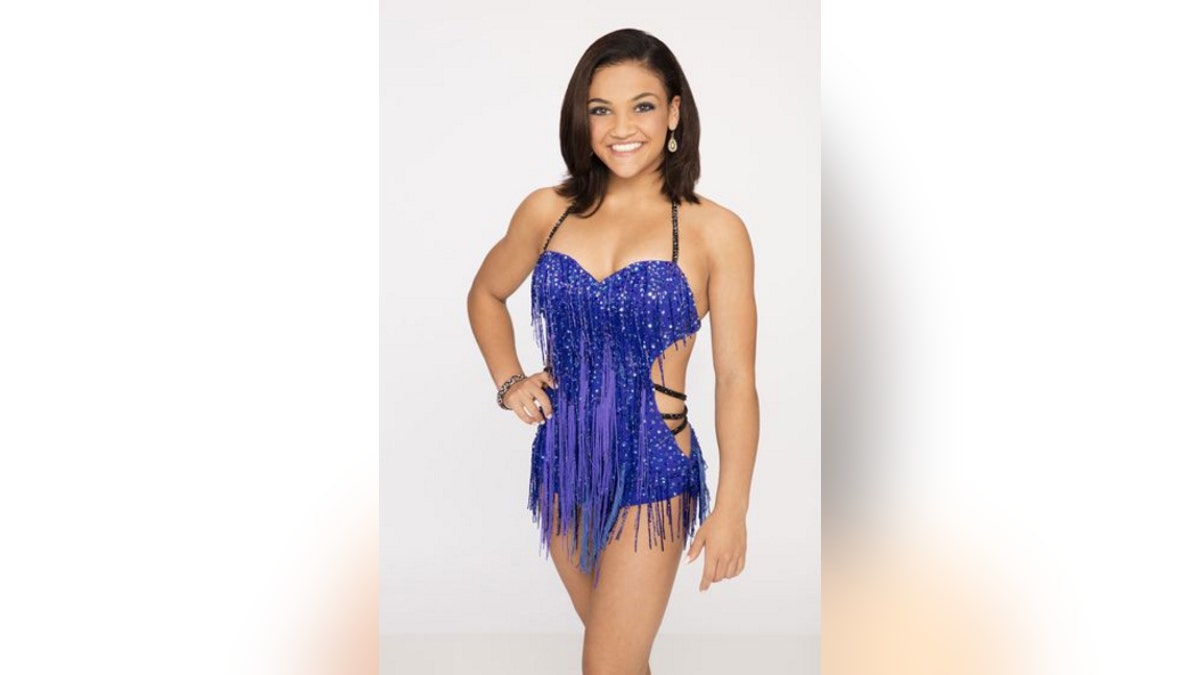 The remaining "Dancing with the Stars" competitors revealed the secrets of their lives on Monday night's show.
And one of the favorites to win the mirror ball trophy, gymnast Laurie Hernandez, was shocked when, just hours after she had paid tribute to her beloved grandmother on camera, the family matriarch died.
In the most emotional moment of the season, the brave athlete rubbed away tears during her dance with partner Val Chmerkovskiy, and also left audience members and her cast mates crying.
During the semifinal show, Hernandez, just 16, recalled how her family members pulled together to make her gymnastics dream come true. Hernandez's grandma Brunilda had moved from Puerto Rico to the United States to pursue the American dream years ago.
'DWTS' recap: Jana Kramer reveals troubles
But sadly, Brunilda became ill with Alzheimer's disease and as "DWTS" fans saw, was in an assisted living facility when Hernandez visited her ten weeks ago.
Teary-eyed Hernandez told the cameras, "Her memory is really not that great." She paused and then sobbed, "I kind of feel bad because I've been away from home for so long so I haven't really been able to see her as much as I used to. She's not really doing so well but I think I'm going to see her soon."
Then, in a shocking on-screen message for the audience and viewers at home, it was revealed, "Laurie's grandmother passed away the day after this interview."
The teen cried in rehearsal and was comforted by partner Chmerkovskiy.
Viewers were then shown Brunilda saying to Laurie, "I'm very, very proud of you, Mamita," in a clip filmed before her death.
Although overcome with emotion, Hernandez fought through her foxtrot with Val and at the end, joined a choked up Tom Bergeron. The host called her dance "an amazing display of courage."
She received a perfect 30 from the judges and another score of 30 for her second dance of the night, a trio performance of the samba with both Val and his brother, Maks Chmerkovskiy.
After the show, Hernandez told reporters of her draining night, "It was a little hard but instead of having to say anything, because you don't know what to say, I just danced my way through it."
She said her grandmother "would have been really happy with the two dances tonight, just 'cause the first one was soft and elegant and the second one had that Latin flavor, so she would have been proud of that, too."
The Olympian said backstage that Val had "actually covered my ears when the [rehearsal footage] package was playing. I still cried a little bit but without him I would have probably not been able to dance as well as I did today or even dance at all because it was kind of a tough week but when you have family with you, it gives you extra energy, so it's like I gained two brothers this week [with Val and Maks]."
Val revealed Hernandez wasn't told right away that her grandmother had died.
"I found out Wednesday night," he told Hernandez while speaking to the press with her.
"You did?" said a surprised Hernandez, who got the bad news on Friday night.
"Yeah. "It's a numbing situation," he told reporters. "I'm not an expert on how to deal with that. I want to protect her. I want to guide her through it but also not shelter her from a situation that is hers to face and hers to grow from and hers to understand. I mean, she needs to take time to understand it but the reality's that her grandma was so proud of her and as a person at that age I think the most peace you get is by seeing the legacy you leave behind, to see your granddaughter represent her country, represent her family, represent herself with so much dignity and pride and strength I think is an absolutely incredible feeling for her grandma.
"I'm sure she's in a better place watching down and is just as proud. What the lesson is cherish every moment, don't take things for granted….," he said.
And Hernandez is not, as she survived Monday's elimination (in which "Little Women LA" star Terra Jole went home) and moves on to next week's finale shows.
After that, the determined Olympic medalist told FOX411, she plans to go right back to her gymnastics touring.
When asked if she'll take a post-"DWTS" vacation, Hernandez smiled, "probably not. I think I'm just going to keep going. I'm excited and I have so many cool opportunities."