Uma Thurman wants Harvey Weinstein to get 'due process' over alleged sexual misconduct
Uma Thurman said she wants justice and hopes Harvey Weinstein ends up in court for his alleged crimes against the actress and other women.
Appearing on "Late Night with Seth Meyers" Monday, Thurman addressed the allegations she made against the disgraced movie mogul in an interview with The New York Times.
"Well, you've got to be a citizen and you can't leave people alone holding the bag of truth by themselves," Thurman said after host Seth Meyers applauded her bravery for speaking out.
"There is no one I wish to get due process more than him," she added.
UMA THURMAN BREAKS SILENCE ON HARVEY WEINSTEIN, HER STRAINED RELATIONSHIP WITH QUENTIN TARANTINO
Thurman said in the report that Weinstein attacked her at a London hotel suite after they had a strange encounter in a steam room in Paris.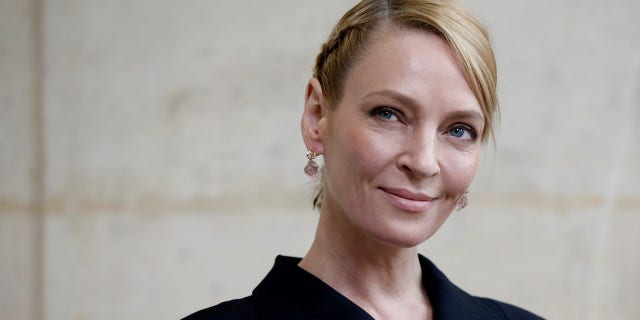 "It was such a bat to the head. He pushed me down," the 47-year-old actress said. "He tried to shove himself on me. He tried to expose himself. He did all kinds of unpleasant things. But he didn't actually put his back into it and force me."
HARVEY WEINSTEIN MAY TAKE LEGAL ACTION AFTER UMA THURMAN'S SEXUAL ASSAULT CLAIMS, ATTORNEY SAYS
Thurman, who collaborated with the producer on seven movies, also said Weinstein threatened to ruin her career over the incident.
A representative for Weinstein said in a previous statement to People he never threatened her career but admitted he "misread her signals."
"Mr. Weinstein acknowledges making a pass at Ms. Thurman in England after misreading her signals in Paris," the statement read. "He immediately apologized."
The rep also denied Weinstein "physically assaulted" Thurman and said the claims were "untrue."
"There was no physical contact during Mr. Weinstein's awkward pass and Mr. Weinstein is saddened and puzzled as to 'why' Ms. Thurman, someone he considers a colleague and a friend, waited 25 years to make these allegations public, noting that he and Ms. Thurman have shared a very close and mutually beneficial working relationship where they have made several very successful film projects together," the statement read.
Thurman is one of more than 60 women who have accused Weinstein of sexual misconduct.
Allegations against the movie producer first surfaced in a New York Times article in October 2017. In the article, several women said Weinstein sexually harassed and assaulted them throughout the famed producer's decades-long career.