Trend Alert! 'Dating Down' Hits Hollywood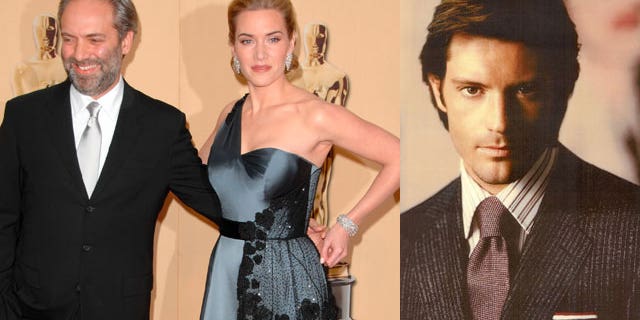 In Hollywood, where fragile egos are as common as DUI's and sex tapes, many celebrities have adopted the habit of "dating down," or the process of trading out a partner whose success is equal to theirs in favor of one who falls about three notches below them on the fame ladder.
Last week Academy Award winning actress Kate Winslet stepped out with her new man, up-and-coming British model Louis Dowler, after splitting from her Oscar-winning director husband Sam Mendes. And while Dowler's star may be on the rise, an up-and-coming model is hardly on the same fame plane as Hollywood A-lister Winslet.
Similarly, television personality Jenny McCarthy has also been seen squiring a male model around town since splitting with her longtime boyfriend, actor Jim Carrey.
So why are so many famous stars trading in their equally famous spouses for major downgrades? And while many celebrities are successfully married to non-famous people, why are stars like Winslet and McCarthy so suddenly turned off to A-list partners?
"It's always easier to date down whether you're a movie star or a regular person. When you need constant love and affection, the way that people in Hollywood so often do, you can get that very quickly and easily when you date down," explains AOL PopEater gossip columnist Rob Shuter.
"Famous people believe they are a big fish in a small pond and they really just want someone to tell them that all the time," Shuter added. "Who wouldn't want to have a full-time fan following you around?"
Singer Avril Lavigne has certainly found a fan in sometimes reality star and Kardashian step-sibling Brody Jenner since splitting from her husband, fellow musician Deryck Wembley. Jenner recently shaved an "A" into the side of his head to pay homage to Lavigne. That's something an equal just doesn't do.
"Only someone less famous than you would so publicly kiss up to you," Shuter said of Jenner.
But it isn't just the women who have been looking for love in all the low places. After his marriage to Sandra Bullock fell apart due to his infidelities with a slew of women who were less famous, less successful and much less clothed than his Academy-Award winning wife, Jesse James began dating tattoo artist Kat Von D., a noticeable step down from Sandra Bullock in terms of fame, talent, financial success and general likability by the public.
"When couples break-up, they often look for a new partner who can provide them with something they were missing in the first relationship. They also often look for a new partner who is less intimidating, or who they can control, because they are afraid of another abandonment or failure," explains Dr. Carole Lieberman, psychiatrist and author of the upcoming book, Bad Girls: Why Men Love Them & How Good Girls Can Learn Their Secrets.
Lieberman explained that the celebrity is hoping that their fame will give them leverage, but it is not a healthy basis for a relationship.
"A celebrity might well date someone who is not as famous because they are hoping that their fame might well keep their new partner attracted to them longer"
But according to Lieberman, these types of relationships, paradoxically, puts the celebrity at higher risk for getting dumped when they least expect it, because they rely too heavily on the illusion that they are "dating down".
Moreover, the relationship can bring with it certain dangers that dating an equal provides some protection from. Namely, dating someone who is less successful than you are professionally can lead to problems once the relationship has run its course as the less successful party clings to their elevated level of fame the relationship afforded them.
"Dating down in Hollywood can lead to either a tell-all book or to a large sum of money paid to the civilian party 'never speak my name again', explains Jay Grdina, the CEO of celebrity news site Kikster.com and the ex-husband of porn star Jenna Jameson.
"Down dating allows a D-Lister to ride the coattails of a star and milk them for all their celebrity appeal and status. When it is over... the rider walks away the victor."