Tori Spelling believes Dean McDermott cheated claims report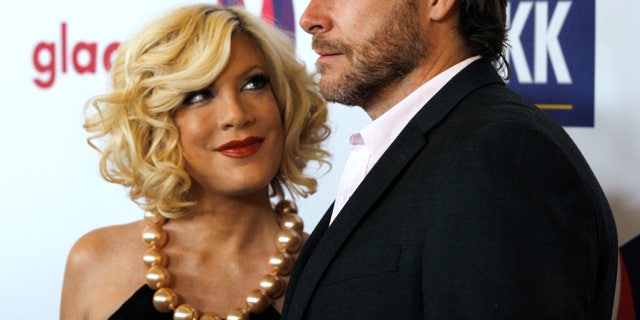 Tori Spelling is allegedly not happy with her husband Dean McDermott after a woman came forward claiming she had sex with him in early December. A new report states that she's working hard to the keep the home normal for the kids but is furious because she believes that he cheated.
Poor Tori Spelling! When Emily Goodhand, 28, came forward claiming she had sex with Dean McDermott, it couldn't have been easy. Tori is putting on a happy face, but is reportedly "making Dean's life hell!"
"She is refusing to comment on the cheating rumors publicly, even though she believes Dean did cheat on her," sources told RadarOnline. "Tori is obsessed with having a picture perfect family, and thinks it's a big part of her image. Commenting or addressing the cheating would taint that image. Things are very tense in the house right now, and Tori is making Dean's life hell."
We can see she's not going public with her feelings toward Dean, 47. On Dec. 25, she shared a sweet Christmas photo of her four kids. However, that happy photo may have been all an act.
"Even though she is trying not to fight in front of the kids, it's impossible," the source added. "She has been crying and screaming at Dean, and saying he has ruined everything, including Christmas."
Tori, 40 has always been insecure with their relationship as they met when they were married to other people in 2006 and had an affair — they split from their significant others and got married less than a month later.
"If the phone rings and it's a girl's voice, I have to ask if he's having an affair. Dean tells me over and over again that he would never do that," she wrote in "Uncharterd TerriTORI," her book that came out in 2010.
However, the source also said she's been "telling friends she always had a deep, dark feeling that Dean would cheat on her."
It couldn't have been easy when Tori saw the cover of Us magazine, with Emily Goodhand, a blond who claimed that not only did Dean sleep with her during a publicity trip in Toronto, he also told her he was in a sexless marriage.
"She has never completely trusted him and has always kept very close tabs on Dean. But despite all that, Dean still cheated," the source added.