Toddler Lily will drop F-bomb on upcoming episode of 'Modern Family'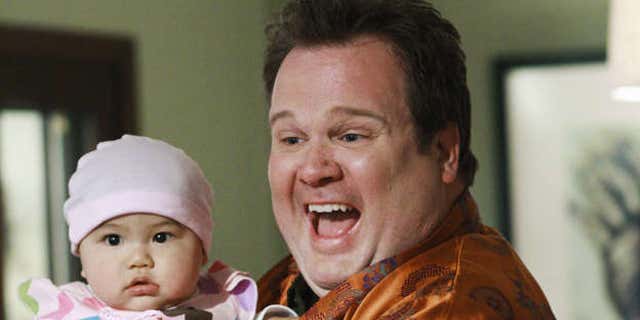 Cover your kids' eyes and ears! One of the most popular shows on TV is preparing to an air an episode in which a two-and-a-half year old toddler drops the F-bomb.
Steve Levitan, the executive producer of the ABC hit "Modern Family," revealed during a Television Critics Association winter press tour panel on Tuesday that the show's 2 1/2 year old character, Lily, uses the profanity, much to the horror of her parents, Cam and Mitchell, who are concerned that she might let it out again during a forthcoming wedding.
Levitan said the envelope-pushing moment is an important life lesson.
"We thought it was a very natural story since, as parents, we've all been through this. ABC will tell you 'Modern Family' gets away with a lot, because I think it is all about context," he said, adding that the network really had to be coerced before giving the green light.
The controversial word will be bleeped in the episode, slated to broadcast next week. But Levitan is still bracing for a backlash.
"I'm sure we'll have some detractors," he said.
Some critics are already up-in-arms over the story line, and have expressed concern that some young fans of the show will then think it is okay to use such cuss words.
"It is certainly in poor taste. The more we see and hear this kind of language on television, the more acceptable and common it will become in the real world," Melissa Henson, director of communications and public education for the Parents Television Council (PTC) told FOX411's Pop Tarts column. "Since television is constantly adding to the likelihood that children will be exposed to this kind of language, we will naturally see more and more children eventually emulate that behavior."
But Ronn Torossian, CEO of 5WPR and author of PR book "For Immediate Release," agrees with Levitan that the issue is common in today's world.
"As a parent, the reality of 2012 is that kids today grow up faster than ever before. Do I as a parent like it? Absolutely not – but as a marketer I understand it," he explained. "From murder and sex to drug use and cursing nothing is too over the top or shocking when it comes to television these days, and just as NYPD many years ago shocked viewers with a bare bottom, pop culture is always about pushing limits – so this is something which can be understood."
Henson disagrees.
"Most people try to curb their language when they are speaking in front of toddlers and young children because children are so likely to repeat what they hear," she continued. "It's not suitable language for a child that young in the real world, and it's not suitable language for a child that young on television, either."
Marissa Connolly, of television watchdog group Common Sense Media said the episode could serve as an important reminder for parents to always watch what they say around young ones.
"It's an interesting time for this issue to crop up, because just yesterday the U.S. Supreme Court began debating the issue of regulating network television when it comes to profanity, which shows that even the top minds of our nation are realizing that there's no easy answer to how we handle language on television and how language and other potentially offensive elements can affect our kids," she said. While swearing can definitely be a ratings grab, this situation is pretty true to life for a lot parents, highlighting that blind-sided moment when your kids do or say something you'd never expect. For parents, if anything, this episode could highlight that while media is a huge influence on our kids, so are we as parents."