Tim McGraw: 'It's the best thing in the world'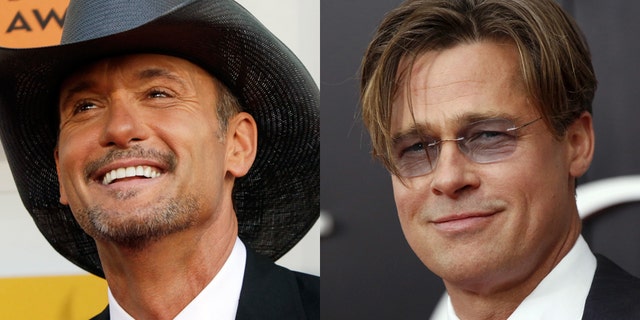 NEWYou can now listen to Fox News articles!
We hear all about male celebrities for their lavish lifestyles, beautiful female partners and a whole host of other topics -- but what about their roles as parents?
As Father's Day rolls around, we focus on these dads who put their kids before their careers -- no matter how spectacular they may be.
The motto with these guys clearly is: "family first."
Kanye West causes chaos in New York
Take a look at these special celeb fathers who have all stepped up and said something sweet about the experience of being a parent:
Brad Pitt
Despite his celebrity life as a multi-faceted actor in many roles, this handsome 52-year-old actor/producer is also a proud father of six children with his equally talented wife Angelina Jolie. Three of their children Shiloh, 10; Knox and Vivienne, 7, are biological and three of them, Zahara, 11; Pax Thien, 12; and Maddox, 14, were adopted into the Jolie-Pitt clan. Pitt told People that fatherhood has taught him all about the meaning of love and that family is the most beautiful thing to experience.
"I care about them more than I care about myself," Pitt told People in an interview. "You see past yourself and become more generous and giving, and wanting only the best for your family."
Channing Tatum
Although this 2012 People Magazine's "Sexiest Man Alive" is frequently recognized for his goofy role in "21 Jump Street," his heart-stopping role in "Dear John" and his promiscuous stint in "Magic Mike," it's time we recognized him for his commitment to fatherhood. Tatum is married to Jenna Dewan, and has an adorable 3-year-old daughter named Everly. "Nothing is more important or scary than protecting a daughter," Tatum told Marie Claire.
On a more comical note, Tatum, 36, told The Mercury about his skills in the "dirtier" elements of being a father.
Andy Samberg and Anthony Weiner are absurd in new films
"I'm solid at diaper changing," he said. "If a guy isn't good at changing a diaper I don't know what he's there for really, because for the first seven months or so, the mom is the end-all, be-all of everything."
Matt Damon
His role in 1997 movie "Good Will Hunting" caused every male to want to be him and every girl to swoon at that Boston accent, but what about his role as a dad to four daughters with his wife Luciana Barroso?
"I think everything changes in little wonderful ways," he told ET. "My whole life opened up when I became a dad."
Damon is father to three daughters Gia Zavala, 7; Isabella, 10; and Stella, 5, as well as a step-father to Alexia, 17.
New 'Ben-Hur' chariot race tries to rival original
In an article by Marie Claire, 45, spoke out about fatherhood with this adorable comparison:
'The only way I can describe [fatherhood]... it sounds stupid, but at the end of 'How the Grinch Stole Christmas,' you know how his heart grows like five times? Everything is full; It's just full all the time," he said.
Michael Buble
This 40-year-old Canadian singer and songwriter, who fills homes with his famous Christmas tracks and serenades us with his hits such as "Haven't Met You Yet," is married to Luisana Lopilato. The couple has two sons -- Noah, 2, and infant Elias -- and Buble is not short of praise when it comes to being a dad.
Before he performs, he calms his nerves by telling himself, "You're Noah's Dad first, and all of this other stuff is just icing on the cake," he told US Weekly before Elias was born.
"[Fatherhood is] the greatest thing that could ever happen. You can't explain it until it happens, it's like telling somebody what water feels like before they've ever swam in it," Buble told Marie Claire.
Finest things about fatherhood
Tim McGraw
This country singer heart-throb is revered for more than just his iconic cowboy hat and beautiful relationship with wife Faith Hill. He's also a father to three teenage daughters, Gracie Katherine, 19; Maggie Elizabeth, 17, and Audrey Caroline, 14. He recently released the song, "Humble And Kind" which serves as a letter to his children encouraging positive values and behaviors. In an interview with Larry King Live, McGraw, 49, opened up about what fatherhood means to him.
"It's the best thing in the world. It's certainly something that keeps you grounded and keeps you in line, you know," he said.