The Voice: Vicci Martínez Gives Tribute to Her Father, Frenchie Davis Sings "Like A Prayer," Christina Aguilera & Adam Levine Have "Moves Like Jagger"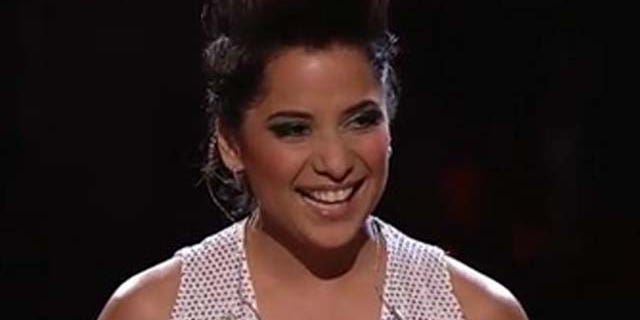 Vicci Martínez nailed her "warrior dance" once again on "The Voice," as she performed "Dog Days Are Over" by Florence And The Machine as a tribute to her father.
"I was kind of in a funk when my father passed away," Martínez said during rehearsals. "Even though he's not around, he is here with me and he is going to take me to the final four."
Martínez told her music coach, music producer and singer Cee Lo Green, that her father was a plumber who never lived out his dream of becoming a professional singer.
Green was so impressed with Martínez's rehearsal and couldn't wait to see her on stage, saying she had a "genuine pain" in her voice.
Forceful and determined, Martínez took the stage debuting new hair—an over-the-top mohawk that fellow coach Adam Levine, from Maroon 5, called "beautiful" and "strong."
"No questions. The most powerful performance of the night," said country star and coach Blake Sheldon.
Christina Aguilera agreed, saying that Martínez already shows sings of being a pro.
"That was a great performance and I loved it," Aguilera said. "What I loved about it the most is that at some point the mic pad came off and you didn't skip a beat."
Aguilera mentioned how this happens to her often when she's touring and performing and she appreciated that Martínez kept her "pitch on."
Green was ecstatic and proud to have the Washington state native on his team.
"You have me on the edge of my seat. You are so right. The dog days are over, the future is so bright for you," Green said with a smile. "I love the war dance, the warrior spirit. That's what the drums represent."
As the evening continued, Frenchie Davis performed her rendition of Madonna's classic "Like A Prayer," a song Aguilera thought was a good fit for her soulful voice.
"It's always been one of my ultimate favorite songs," Aguilera said.
Davis, on the other hand, felt out of her comfort zone with this new challenge.
"It's scary because it's out of the box for me," Davis said. "I was a little taken aback and intimidated by the song choice."
Despite the nerves, Davis succeeded in putting on a good show.
"That, what you just did as a singer, took some breath and some lungs, power, control, everything," Aguilera told Davis after her performance. " You got it."
Aguilera and Levine also showed off their pipes as they took the stage together and performed "Moves Like Jagger," an original song by Maroon 5.
You can reach Alexandra Gratereaux at: Alexandra.Gratereaux@foxnewslatino.com
Or via Twitter: @Galexlatino
Follow us on twitter.com/foxnewslatino
Like us at facebook.com/foxnewslatino