'The Voice' recap: Surprise wedding announcement as live show rounds begin with a bang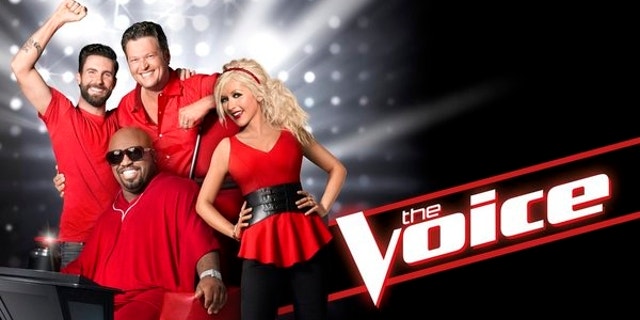 NEWYou can now listen to Fox News articles!
The competition is finally heating up as live rounds began last night on "The Voice." Live means anything can happen including coach Blake Shelton asking Miley Cyrus to "come in and twerk on" contestant Nic Hawk and a surprise wedding announcement from one of the contestants.
The country coach joined fellow coaches Adam Levine and CeeLo Green in their throne-sized, red seats to watch Christina Aguilera and Flo Rida open the show with a performance of "How I Feel."
The attention quickly turned the contestants as Team Adam and Team Blake competitors took the stage to sing for your votes. The coaches no longer have say over who stays and who goes. So how did it all pan out?
Up fist: Outlaw country artist Shelbie Z.
Team: Blake
Song: "Fancy" by Reba McEntire
Shelbie Z. had more to celebrate than just making it onto the live shows; the Alabama native married her sweetheart to the tune of coach Blake Shelton's "Boys 'Round Here" on September 14th. However, instead of choosing a love song, the former beauty pageant contestant belted out a country rock song with plenty of growl.
"I love your growls and when you get on that stage you deliver," Aguilera said as she reluctantly complimented three-time 'Voice' winner Shelton.
Coach Blake reckoned the singer could easily be confused with one of the most successful country artists on the charts today should someone have just woken from a coma to watch her performance. Huh? Confusion aside, all coaches agreed the outlaw county singer delivered.
Next up: Tech-geek-turned-singer James Wolpert
Team: Adam
Song: "A Case of You" by Joni Mitchell
The former Apple store employee impressed all four coaches with his acoustic rendition of Joni Mitchell's "A Case of You."
Coach Adam Levine said Wolpert "looks like a stock broker" but he "can sing Boston, Joni Mitchell and Jack White." Shelton noted the singer had guts to sing an acoustic song on "The Voice" stage and couldn't understand how one could be "a geek and be that awesome at the same time."
Third time's a charm: Entertainer Nic Hawk
Team: Blake
Song: "Blurred Lines" by Robin Thicke
Coach Blake chose "Blurred Lines" for his team's resident entertainer. Hawk took the song head on including T.I.'s rap in the middle of the tune. Shelton was so invested in making the performance as entertaining as possible even joked, "we're going to try and get Miley [Cyrus] to come in and twerk on you."
Aguilera was particularly impressed with Hawk's ability to sing, rap and dance at the same time. CeeLo said Hawk did the record proud.
Shelton was also pleased with his team member's performance but felt there was one thing missing. "You did everything you can do as a performer and I can't think of another element besides boobs that you could have thrown into that."
A performance with soul: Ray Boudreaux
Team: Blake
Song: "Home: by Marc Broussard
The single dad stayed true to his roots and chose a "Swamp Pop" song with soul for his first live performance. Performing "Home" by Marc Broussard, Boudreaux scored high points with all four coaches.
"I loved it," Aguilera said.
Another Team Blake performance: Austin Jenckes
Team: Blake
Song: "She talks to Angels" by the Black Crowes
Jenckes blew the coaches and audience away with his rendition of "She Talks to Angels" by the Black Crowes. The coaches praised him for his "effortless strength" and ability to put his entire heart into each performance.
The only criticism came from Levine who said he based on Jenckes size was shocked to discover from the pre-taped video package that the singer rode scooters and not Harleys. He offered to take the contestant for a ride along with "Voice" host Carson Daly.
"It takes a confident man to ride a moped," Coach Blake said in defense of his team member.
Next to take the stage: Grey
Team: Adam
Song: "Still Into You" by Paramore
Coach Adam chose Paramore's "Still Into You" for Grey so the singer could show off her rocker side. Although the performance clearly had pitch issues, the coaches gave Grey positive reviews.
"You're awesome grey, you really are," said Shelton.
Next up: Will Champlin
Team: Adam
Song: "Secrets" by One Republic
Originally a Team Christina member, Champlin had a lot to prove after nearly making it through the battle and knockout rounds. His rendition of One Republic's "Secrets" proved why Levine saved the singer during the knockouts.
"You deserve to be here just as much as anyone else," Levine told Champlin.
Another great performance: Preston Pohl
Team: Adam
Song: "Nothin on You" by B.o.B featuring Bruno Mars
Pohl has consistently been a favorite among all four coaches and last night's performance was no exception.
"I'm blown away man," Shelton said. "The pitch and your passion when you're performing. I mean, gosh."
Coach Adam was especially proud of Pohl's performance. "I'm not sure there's anybody in the competition with something as unique as what you have. No one sounds like Preston."
Second to last: Cole Vosbury
Team: Blake
Song: "Maggie May" by Rod Stewart
The bearded-singer took on Rod Stewart's "Maggie May" for his first live performance. The song choice paid off as Coach Adam admitted he was "stupid" for not turning his chair for the singer during the blind auditions.
"I've regretted not turning around for you ever since I didn't turn around for you," Levine said. "I'm stupid."
Shelton even predicated that Vosbury may be the "guy who could win this whole thing."
Last, but not least: Tessanne Chin
Team: Adam
Song: "Many Rivers to Cross" by Jimmy Cliff
Chin was the clear winner last night earning herself a standing ovation from Coach Adam. She ended the song on an emotional note crying tears of happiness that Aguilera said were well deserved.
Tune in tonight to watch Team CeeLo and Team Christina perform live. The results from both nights air on Thursday.