'The Crown' reveals Tobias Menzies as Prince Philip in new photo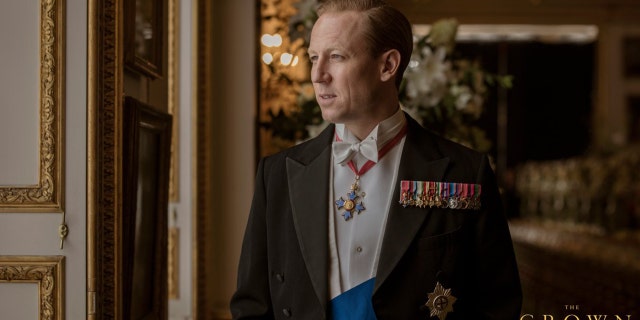 Fans of "The Crown" just got a first glimpse at their new Prince Philip.
A snap showing Tobias Menzies playing the royal was posted on the hit Netflix show's Twitter account Tuesday.
"Ambition," the show tweeted, sharing a snap of Menzies, 44, in character and looking off-camera.
The post received more than 1,200 retweets and 7,400 likes. as of Tuesday afternoon.
Menzies, who played Edmure Tully on HBO's "Game of Thrones," will star as Queen Elizabeth II's spouse in seasons three and four of the program — the first of which will likely air next year, Variety reports.
NETFLIX'S 'THE CROWN' RELEASES IMAGE OF OLIVIA COLMAN STARRING AS QUEEN ELIZABETH II IN NEW SEASON
Actors Claire Foy, 34, and Matt Smith, 35, played the couple in the show's first two seasons.
Menzies spoke about teaming up with Olivia Colman, 44, who is taking on the role of the British monarch, in April.
QUEEN ELIZABETH, 'THE CROWN' AND THE TRUE STORIES BEHIND ITS PLOTLINES
"I'm thrilled to be joining the new cast of 'The Crown' and to be working with Olivia Colman again," he said in a statement. "I look forward to becoming her 'liege man of life and limb.'"
Fans already have an idea of what Colman looks like in the part.
"Patience," the show wrote in a July 16 tweet that showed her holding a teacup.
Colman previously praised actress Foy as a "genius."
"I was utterly gripped watching ['The Crown']," Colman said in a statement. "A proper 'just one more' feeling. I think Claire Foy is an absolute genius. She's an incredibly hard act to follow. I'm basically going to rewatch every episode and copy her!"