'The Conners' star Emma Kenney talks filming spinoff without Roseanne Barr
Emma Kenney opened up about filming the spinoff "The Conners" without Roseanne Barr following the controversy that led to the cancellation of the "Roseanne" reboot.
Kenney, who plays Harris Conner-Healy in the sitcom, told Us Weekly that her fellow castmembers are "very professional" and filming is going smoothly amid Barr's absence.
"The first table read was great," Kenney told the magazine. "It was so nice to see everyone, and I'm so happy. I can't wait for everyone to see it."
"I think that all of us are very professional," she added. "And there's just so many more stories that need to be told through the Conner family and so many other different aspects of life that we're going to get to tell, and I'm really excited and grateful for that."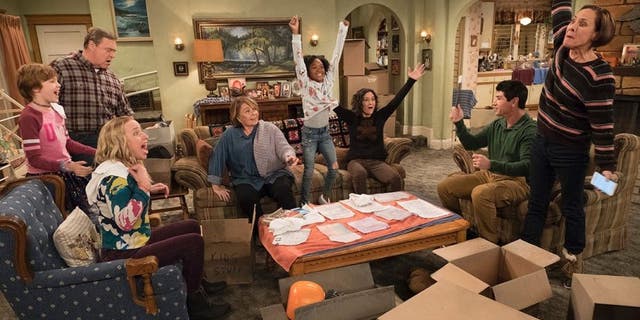 ABC announced in May that it was canceling the reboot of "Roseanne" following Barr's racially charged tweet about former President Barack Obama's aide Valerie Jarrett. Kenney was among the several "Roseanne" castmembers and celebrities who spoke out against Barr.
"I am hurt, embarrassed, and disappointed," Kenney said in a tweet in May. "The racist and distasteful comments from Roseanne are inexcusable."
The network later announced it ordered a 10-episode spinoff that would focus on the Conners. Kenney said the new show will give viewers the chance to know more about her character, the daughter of Darlene Conner and David Healy.
"We saw in the last season her struggling, having moved from Chicago to a small town with her family, so I'm just really hoping that Harris will find more connections within her family," she said.