Terry Richardson accused of forcing model Caron Bernstein to perform oral sex during photo shoot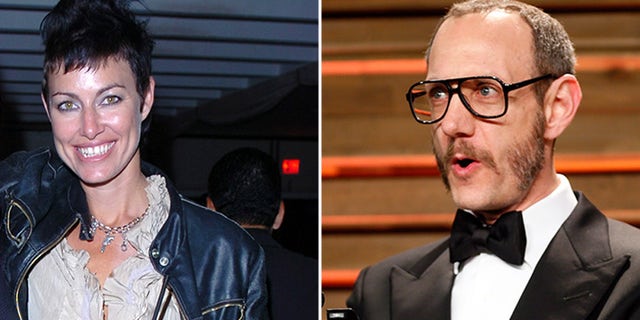 Ford model Caron Bernstein claimed to the New York Daily News on Thursday she was reportedly raped by celebrity photographer Terry Richardson in 2003, but the lewd lensman is saying that anything they did was consensual.
The 47-year-old stunner said she was initially excited to collaborate with the 52-year-old snapper on a topless photo shoot to promote her music career. However, she said Richardson quickly snuffed out her hopes during the session.
Bernstein claimed that after he positioned her in a chair, he took some photos, exposed his penis and then forced himself into her mouth.
"It was like literally being shot with a stun gun," she told the newspaper. "My brain just went on pause. I wasn't doing anything. I wasn't performing as a model."
Bernstein said she couldn't remember if the alleged attack took seconds or minutes.
"I was like a deer in the headlights," she explained. "I wasn't drugged, I wasn't handcuffed. Thank God that never happened. But in a weird way, that would have made it easier to forgive myself for not fighting him off."
Richardson's lawyer Brad D. Rose told the New York Daily News he denied the allegations.
"Ms. Bernstein knowingly and willingly posed for these photographed and at all times prior to and during the shoot, any contact she had with Mr. Richardson was consensual," he said.
Bernstein, a former lingerie and runway model, was comfortable with nudity and admitted to agreeing to pose topless for Richardson. She described how Richardson said he wanted to capture a fragrance called "Sex," which would be included in an editorial layout for V Magazine. According to Bernstein, someone from the shoot handed Bernstein a pair of white panties and she changed in the bathroom.
I would never walk in somewhere and agree to a sex act with a stranger. I've never done that in my entire life
That's when Richardson allegedly began snapping with a simple point-and-shoot camera, she claimed. Once the others in the room exited to an outside deck, Bernstein said Richardson then allegedly ejaculated on her chest and took more photos.
A rep for the fashion magazine told New York Daily News they weren't aware of a 2003 editorial featured assigned to Richardson.
"Caron Bernstein agreed to shoot sexually explicit photographs with Mr. Richardson, which had no connection to an editorial or advertising campaign for a fragrance product," said Rose.
The New York Daily News added they reviewed more than 30 negatives from that shoot and images snapped in succession revealed Bernstein "in different positions with semen on her breasts." However, her face was cropped out of those photos.
A photo of Bernstein's upper torso was used in an early edition of Richardson's 2004 coffee table book, titled "TERRYWORLD."
Bernstein insisted she never agreed to perform oral sex on the photographer.
"I didn't know this man from Adam," she said. "I would never walk in somewhere and agree to a sex act with a stranger. I've never done that in my entire life. Never in a million years."
Bernstein added after the alleged incident, she quickly ran to her friend's nearby boutique crying.
This isn't the first time Richardson has been accused of sexual assault. Many brands and magazines have cut ties with Richardson over the years after several models described being reportedly assaulted by Richardson. However, he has since kept busy and even recently shot the August 2017 cover of Vogue China with "Game of Thrones" actress Emilia Clarke.
Bernstein said she's hoping coming forward now will encourage other victims to share their stories.
"People might try to discredit me, but I've had more than my fair share of 15 minutes of fame," she said. "And it's not monetary. I'm financially more than fine. I'm not a martyr and I'm not a saint, but if I could stop this from happening to one other person, I would be proud, and maybe I could get some kind of closure."