Taylor Swift Makes History at BMI Awards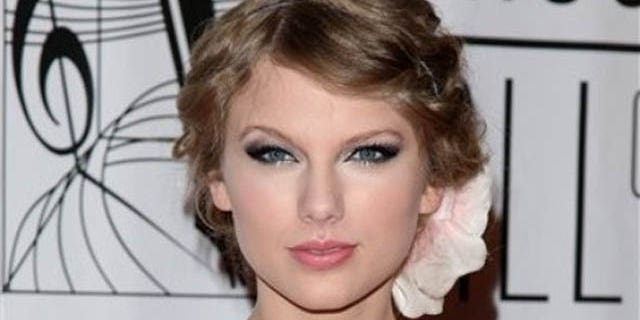 Taylor Swift was named country songwriter of the year at the BMI Awards on Tuesday night, becoming the youngest person to win the award at age 20.
The pop sensation also won country song of the year with co-writer Liz Rose for "You Belong With Me." She's the first songwriter to win that award three years in a row.
"It's been a really emotional week for me," Swift told the crowd.
Her new album, "Speak Now," had the biggest opening of any record since 2005. But she also attended the funeral of a close friend on Monday.
"He was 21, and I used to play my songs for him first," Swift said.
Bill Anderson previously was the youngest winner of songwriter of the year, taking the honor in 1960 at 23. Johnny Cash was next with a win in 1956 at 24. Earlier this year, Swift became the youngest winner of the performing rights organization's pop song of the year award.
Swift won the songwriter award based on her own recordings of "Fifteen," "White Horse," "You Belong With Me" and "Best Days Of Your Life," recorded by Kellie Pickler.
Country songwriter of the year is one of the few awards the pop star had yet to win. She's the Country Music Association's reigning entertainer of the year and could win female vocalist of the year for the second straight time during the awards show Wednesday night.
BMI honored dozens of songwriters, including Miranda Lambert, Dave Haywood and Charles Kelley of Lady Antebellum, Zac Brown, Luke Bryan, Eric Church, Kristian Bush of Sugarland, Toby Keith and Keith Urban.
In one of the night's most poignant moments, Ronnie Dunn, George Strait, Martina McBride and Faith Hill serenaded Billy Sherill, who was named a BMI icon. Hill became emotional during her rendition of Tammy Wynette's "Stand By Your Man."
Sherill was named BMI's country songwriter of the 20th century in 1999 and was inducted into the Country Music Hall of Fame this year.
The producer and songwriter is widely credited as the founder of the so-called "countrypolitan" movement that opened the doors for pop-leaning singers like Swift, Carrie Underwood and many of the night's other award winners.
In an interview with The Associated Press, Sherill was typically dismissive about his pivotal role in country music history.
"I don't think I changed anything," Sherill said. "I think I jumped on the bandwagon."
The 74-year-old Sherill said even now after all the awards, he still has trouble with the attention.
He said he would rather be at home watching "The Twilight Zone" television show than the center of attention Tuesday night.
"It's very humbling," Sherill said. "It's kind of scary. It's so wonderful, it's unreal. It's really hard to talk about. It's easy to do, it's hard to talk about."