Stephen Colbert calls Trump 'chicken' if he doesn't talk to Robert Mueller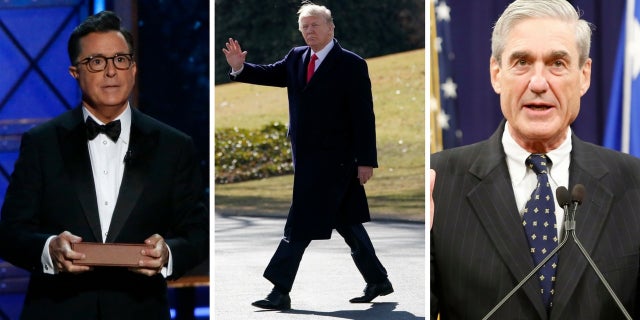 "The Late Show" host Stephen Colbert mockingly urged President Trump to talk with Robert Mueller amid reports that the commander-in-chief's lawyers do not want him to speak to the special counsel's office.
Colbert began his monologue Tuesday with a report by The New York Times that claimed Trump's lawyers do not want the president to speak to Mueller because "he has a history of making false statements and contradicting himself, [and] could be charged with lying to investigators."
DIANE KRUGER DEFENDS QUENTIN TARANTINO FOR 'INGLORIOUS BASTERDS' CHOKING SCENE
Colbert noted Ty Cobb, one of Trump's lawyers, argued the White House should cooperate with Mueller's investigation into alleged collusion between Trump's campaign and Russian officials. Trump told reporters in late January that he "would love" to be interviewed by Mueller "as soon as possible."
Colbert then looked into the camera in a plea to Trump to "ignore his lawyers" and "sit down with Robert Mueller, otherwise everyone's going to think that you're scared."
"But we know you're not," Colbert said. He then picked up a bucket of fried chicken and continued, "Oh, oh, your fried chicken arrived. "Oh wait, it's empty. Oh, I think I know where the chicken is."
OZZY OSBOURNE RETIRES FROM TOURING, MAKING HIM THE 4TH ICON TO DO SO RECENTLY: WHAT'S GOING ON?
Colbert began clucking as the audience laughed.
The host then pivoted to Trump's son Donald Trump Jr. defending his father from critics who called the president racist. Colbert mocked Trump Jr.'s defense of his father.
"Classic defense. 'How can I be racist? I have pictures with black people,'" Colbert said.