'Star Wars' star Daisy Ridley: Rey 'doesn't quite know what is going through her mind'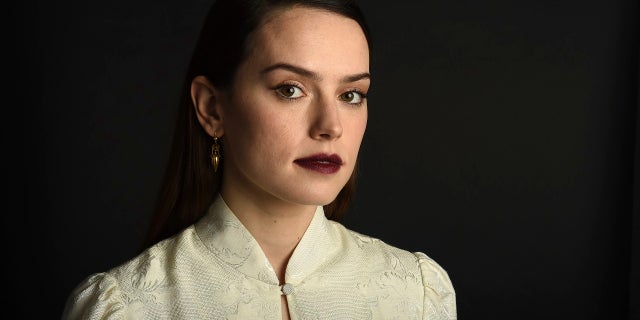 Daisy Ridley went from obscurity to international stardom when J.J. Abrams picked her to play the central character of the new "Star Wars" trilogy, Rey, who quickly became a fan favorite and an inspiration to young girls around the world.
The 25-year-old British actress returns to the "Star Wars" fold in "The Last Jedi," out Friday. The film, the second in a planned trilogy, picks up just as Rey finds Luke Skywalker on that lush cliff.
Ridley spoke to The Associated Press recently about playing Rey and getting on board with director Rian Johnson's vision for the newest installment.
AP: Did you feel like you had more of a handle on this, having done it once before?
RIDLEY: It's hard, you would think going into the second one you'd be like, 'Oh yeah I've got this.' No. No. it was very much like new scene partner, new story, new. ... It was just a new feeling. New director. New writer. It was a lot of wrap my head around. And then things settle down as they always do, and you're like, 'This is OK.'"
AP: Rian Johnson not only wrote but directed "The Last Jedi." How did that change things for you?
RIDLEY: John (Boyega) and I had had a lunch meeting with him in August or September when he was close to at least finishing the story and then we were able to question him. That's the beauty of working with a writer/director. You can question things directly and things can happen very immediately. But also hilarious because Rian I don't think changed a thing. I was going, "Uh, I'm not sure about this." But he didn't change a thing because he didn't need to. It just took us all a second to be like, "OK, this is where the story is heading."
ADAM DRIVER SAYS 'STAR WARS' CHARACTER KYLO REN ISN'T EVIL -- HE'S JUST SURE HE'S RIGHT
AP: At the end of "The Force Awakens," Rey has lost her mentor/father figure Han Solo, been separated from her friend Finn and is on this new journey to find Luke. What is going through her head?
RIDLEY: I think she doesn't quite know what is going through her mind. She's been sent to do this thing and it goes beyond anything she's known. Everything has been her trying to do the right thing and her trying to help other people and she's not really stopped for a second. Even doing it, I didn't quite know. I was trying to play hope and searching for an answer. But hilariously, the first time around, I didn't know where that was going to go. Anything that Rey is trying to catch up on, the audience is trying to catch up on with her. Why is she there? What's the Force? What's this thing? And the greater sort of questions of the universe of good and evil and why people do the things they do.
AP: There were some funny photos of you and Mark Hamill on set and him riding on your back, like Yoda once did to him. What was it like working with him?
'LAST JEDI' TO BE SCREENED FOR SPACE STATION CREW, NASA SAYS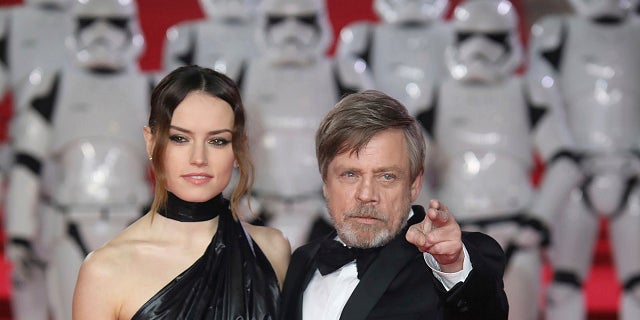 RIDLEY: He is goofy. It was comforting working with John because we were great friends and it was comforting working with Harrison (Ford) because he reminds me of my dad. And with Mark, his daughter is my age, so there is again, and I don't know, maybe it's an older actor thing of just a comfort. He makes everyone on set feel really happy and included. I think what Mark and Harrison and Carrie (Fisher) do very well is make everyone feel like they're part of it.
AP: Has anything surprised you about the reception to Rey?
RIDLEY: What I actually do think is funny is a lot of people are going, "Rey's Snoke," or, "Rey's something else." Just let her be her! No, she's not anyone else, she's just her. No she doesn't have to be like Luke, she doesn't have to be like Leia, she's just doing her own thing. I don't think that would have been said about any of the male characters.
AP: What do you think of J.J. Abrams coming back to direct Episode IX?
RIDLEY: I literally burst into tears. I was like, "Oh my God, oh my God, oh my God!" I emailed him and go, "I'm literally crying." And he goes, "Me too!"