Stan Lee's former business manager pleads not guilty to filing false police reports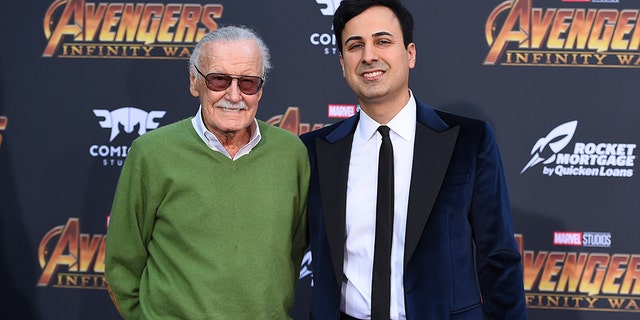 Marvel Comics legend Stan Lee's former business manager has pleaded not guilty to charges that he filed a false police report in Los Angeles amid claims of elder abuse.
According to The Hollywood Reporter, Keya Morgan pleaded not guilty on two counts of filing a false report of an emergency and two counts of filing a false report of a crime. All of these charges are misdemeanors.
The New York Daily News reports that the false claims in question stemmed from a May 30 call Morgan made to authorities alleging that three strangers had locked security out of Lee's house in the Hollywood Hills and may have been harming the 95-year-old creator of such characters as Spider-Man, The Hulk, Black Panther and The X-Men.
However, it turned out that the unidentified people were in fact two LAPD officers and a social worker from Los Angeles County Adult Protective Services performing a welfare check on Lee. Morgan was not a part of the meeting and denied that he made the call purposely in an effort to disrupt it.
The following day, Morgan made a second 911 call after a security guard allegedly refused to sign a non-disclosure agreement. Morgan claimed that an armed man was being threatening and aggressive in the home. Police reportedly dispatched a helicopter and five patrol cars to the home where they reportedly drew their weapons on two security guards. Investigators would later discover that security officers there were not armed and had proper permits for the weapons they kept stored.
As previously reported, Lee previously made a video to his fans on Twitter, with the help of Morgan, explaining that he had only one business manager (Morgan) and that he enjoyed his full confidence. However, one day after Morgan's arrest, Lee filed a restraining order against Morgan claiming elder abuse. It's worth noting that the restraining order can be granted to victims of both physical and financial abuse. It's unclear at this time if Lee believes Morgan was trying to harm him or steal from him. Police, however, are investigating Morgan over reports of elder abuse.
Morgan, however, took to Twitter to deny the allegations against him.
"For over 10 years I have shown nothing but love, respect & kindness to Stan Lee & his wife, a fact he has repeated countless time. I have NEVER EVER abused my dear friend. Everything you read in the #FakeNews is pure malicious lies & I will 100% prove it. The truth will come out," he wrote.