Stacy Keach: Getting arrested for cocaine possession was the 'best thing that ever happened to me'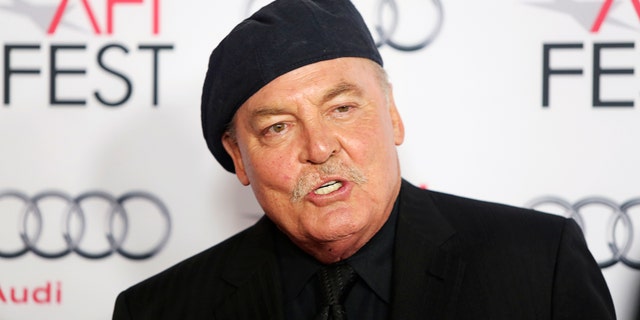 Stacy Keach is best known as Mike Hammer but he's also one of America's finest stage actors winning acclaim for his portrayals of "Hamlet," "Macbeth," and "King Lear." In his memoir, "All in All: An Actor's Life On and Off the Stage," the 72-year-old actor opens up about his arrest in London for cocaine possession and his overwhelming passion for the theater. Keach, who can be seen in "Nebraska," spoke to FOX411 about it all.
FOX411: You are a very accomplished stage actor. Does it bother you that most people know you as Mike Hammer?
Stacy Keach: Not necessarily. I loved doing Mike Hammer and I know a lot of time actors get stuck with a certain identity by virtue of the roles they play. I know my good friend Henry Winkler got frustrated because people didn't think him of anything else but The Fonz. I think over the years I'm not exclusively identified with Mike Hammer even though it's the most international profile that I have and it doesn't bother me. In fact I'm still doing Mike Hammer. We've done audio books and radio novels.
FOX411: What were you thinking taking two cans of shaving cream with you for a 24 hour trip?! (One can was filled with cocaine.)
Keach: Yeah it was the dumbest thing in the world. I think subconsciously I was hoping to get caught. I really think it was such a stupid move, I really believe that. As it turns out, looking back, it was the best thing that ever happened to me. It saved my life actually.
FOX411: It seems like [cocaine] really was part of the culture in Hollywood in the '70s.
Keach: I think you're right. It was everywhere. If you were hosting a party and you didn't provide it, you weren't chic. There were a lot of excuses and justifications. People were always saying that Freud and Sherlock Holmes used it. There was a general feeling that cocaine wasn't that bad. It's the most diabolical drug because it seduces you into feeling superior.
FOX411: You grew up in a solidly Republican home.
Keach: I'm neither a liberal nor a conservative. I'm sort of an independent. It depends on the circumstances of the moment.
FOX411: You had a long-term relationship with Judy Collins.
Keach: It wasn't that long, four years.
FOX411: Wasn't that longer than a couple of your marriages?
Keach: (Laughs) Exactly, no you're right. We met on "Peer Gynt" in New York. I fell in love with her at first listen. I was drawn to her creativity and talent as much as anything else. We shared a few wonderful years together.
FOX411: You were born with a cleft palate. Were you self-conscious about it as a kid?
Keach: Only when people called attention to it, when kids teased me. My parents were wonderful. They raised me with the idea that I was just like any other kid but I had something that made me different. It was a special thing that made me unique. I was taught to feel a certain pride that I was different. Only when I was maligned and teased by kids did it bother me. I became an overachiever as a result of that. I had to excel in sports to make up for that. It was a motor. It gave me an incentive to do better. I was lucky. A lot of kids who are born with cleft palates have real problems with speech.
FOX411: You write that used to seethe with anger when you lost out on a role.
Keach: I tell young actors, my students to get ready because you've got to be thick skinned. You've got to be able to withstand rejection. You've got to be able to find a way to not take something so personally because it destroys your ability to go forward and that's the hard part. Even today I'm up for certain roles, Jack Nicholson will get it or Michael Douglas. Yes I'm disappointed but you go on because you realize after so many years of doing this that it's part of the game. It's an occupational hazard. It's something you have to live with and look at the good things. Try to focus on the positive, don't take things so personally…but it's still tough!