Spidey tops the box office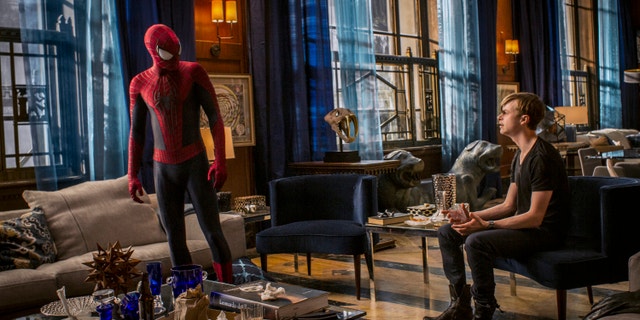 While unable to match the debut power of fellow superhero marvels like the "Iron Man" franchise and "Captain America," Sony's "The Amazing Spider-Man 2″ still managed to continue the webslinger saga in high-flying fashion, with an estimated $92 million domestically reports Variety.
In just three weeks, the sequel has grossed $277 million internationally, including an additonal estimated $116 million this weekend, for a worldwide haul nearing $370 million.
Sony has a lot riding on "The Amazing Spider-Man 2″ — and the film didn't disappoint even if it did fall short of similar Stateside summer openers, including "Iron Man 3," which blew the doors off last season with its massive $174 million domestic start.
It's become tradition for the May-August box office season to begin with the latest Marvel superhero pic, including two previous Spidey installments. (The first "Spider-Man" opened with $114 million in 2002; "Spider-Man 3″ grossed $151 million in 2007.)
The original, however, benefited from being the first of its kind from the comic-book brand, while the three-quel saw built-up audience energy as the finale in the "Spider-Man" trilogy.
All the same, this year, Disney and Marvel essentially kicked off summer-like moviegoing in early April, with "Captain America: The Winter Soldier" proving that franchise's mettle with moviegoers, grossing $95 million opening weekend. The "Captain" sequel, which so far has collected a whopping $680 million globally, likely stole some of "Spider-Man's" thunder; this weekend, "Winter Solder" grossed $7.8 million — down just 52% — even with "Spider-Man" entering the market.
Still, Sony anticipates the film will hold up well given its playability so far in overseas holdover markets.
"It's just been stunning results across-the-board worldwide. We had only one day in China, and it's been a huge one (estimated at $10.4 million)," said Sony worldwide distribution topper Rory Bruer. "It's all going to add up nicely."
Domestically, the sequel saw an uptick on the West Coast, Bruer said, especially with Hispanic auds. The film also drew a sizable 43% from 3D, of which 9.3% came from Imax (the circuit had 16 of the pic's top 20 locations) and an additional 7% from other premium large-format locations.
In limited Stateside release, Fox Searchlight bowed its racially themed period drama "Belle" at four locations, where the film averaged a solid $26,123 per screen. Pic totaled an estimated $104,493 through Sunday.