Sophia Loren says 'it's very difficult' to discuss the #MeToo moment: 'It does give me the chills thinking about it'
Sophia Loren has finally spoken out about the #MeToo movement.
The Italian actress, who became an international star at the height of Hollywood's golden era, told the U.K.'s Evening Standard Thursday it was difficult for her to weigh in on the recent sexual harassment scandals that have rocked the film industry.
"It's very difficult to talk about this [scandal] and it does give me the chills thinking about it," said the 83-year-old, as reported by The Daily Mail.
Loren believed she met her late film producer husband, Carlo Ponti, at "the right time," which led to her "serene" experience as an actress. The screen siren insisted she never faced sexual harassment during her time in Hollywood because her husband was often by her side.
"Maybe I was lucky to have met the right person at the right time," she said. "My life has been very serene."
Loren advised other young stars to "get to know the right people" while they attempt to navigate their careers.
"When you find yourself in a difficult position you just have to go on and don't trust the people that you shouldn't," she said.
Loren married Ponti, who was 21 years her senior, in 1966. They remained together until his death in 2007 at age 94.
In December 2017, film historian and Running Press Senior Editor Cindy De La Hoz, who published a book in partnership with Turner Classic Movies, titled "Sophia Loren: Movie Star Italian Style," told Fox News it was Ponti who first spotted the future movie icon from war-torn Pozzuoli.
Ponti, a judge at a beauty pageant in Rome, spotted the then-19-year-old in the audience and sent her a note, suggesting she should participate.
That ultimately led to a lasting relationship. It was Ponti who also recommended Loren to American director Stanley Kramer for 1957's "The Pride and the Passion," leading to a Hollywood crossover.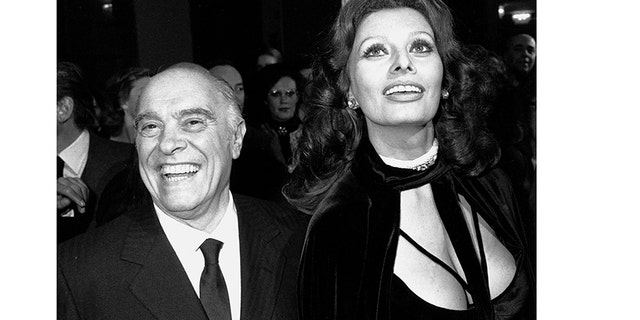 "They kept a sense of ease and relaxation in their relationship, rather than putting a microscope to it and overthinking things, overanalyzing things," said De La Hoz about their lasting marriage.
Loren also found success in Hollywood on her own terms. Throughout her career, she remained devoted to her husband and children, all while taking on various roles.
In 2015, Loren told the Associated Press the word retirement wasn't in her vocabulary.