Solange Knowles stirs up Met Gala drama, slams unnamed celeb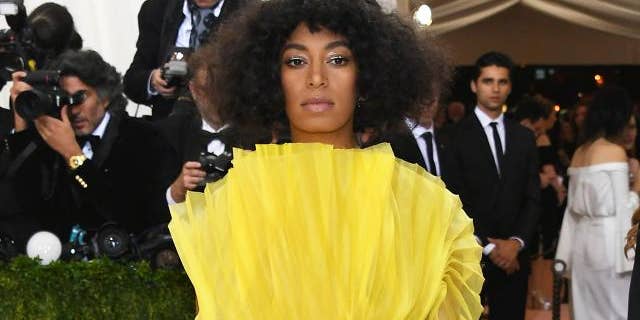 It wouldn't be the Met Gala without some juicy Solange Knowles drama! The 29-year-old DJ attended this year's event in NYC in a lemon yellow (yes, we went there) David LaPort dress, but it was her comments on Twitter after the event that sparked rumors.
"Shout out to when you think you all 'artsy and s--t' , but your just rude and annoying lol [sic]," she tweeted, causing fans to immediately speculate about the "rude and annoying" person she was referencing.
RELATED: Beyonce Ditches Jay Z and Her Wedding Ring at the 2016 Met Gala
Several posted a photo from the event of Solange and her older sister, Beyonce, talking with this year's co-chair, Taylor Swift, indicating that Solange's words were about the "Blank Space" singer.
This certainly isn't the first time Solange has stirred up controversy at the Met Gala. In 2014, elevator security footage was leaked of Solange attacking her brother-in-law, Jay Z, in The Standard Hotel following the gala's after party in the Boom Boom Room. The cause behind this fight was never revealed, but following Beyonce's newest visual album, "Lemonade," many think Solange was attacking the rapper for his alleged infidelity.