So You Think You Can Dance's Top 10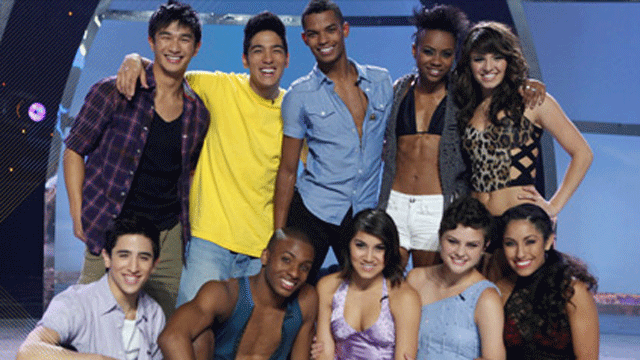 After five grueling weeks of fast-paced competition, injuries and a few highly memorable routines, it's finally time for So You Think You Can Dance to name the Top 10 dancers and the All-Stars they'll be paired with.
But first, judge Nigel Lythgoe took a moment to honor the show's amazing, and well-deserved, achievement in garnering eight Emmy nominations, including one for host Cat Deeley, whose nod brought on a standing ovation in the audience.
Nigel Lythgoe reveals a So You Think You Can Dance All-Star, praises Cat Deeley's Emmy nod
Now onto the elimination! On Wednesday, Clarice and Jess performed a lyrical hop-hop and a jive, both of which were lackluster. Meanwhile, Caitlyn and Mitchell's two routines lacked any real spark, landing them in the bottom three, and ensuring Clarice and Jess — surprisingly — have a spot in the top 10.
The bad news just kept coming when Lythgoe broke the news that Alex Wong, who they planned to bring back as an All-Star this season, has injured himself once again. However, the mood lightened upon finding out which dancers would be returning, including Melody (Season 1), Allison (Season 2), Pasha (Season 3), Season 4's Twitch, Comfort and Chelsie, Brandon (Season 5), Kathryn (Season 6) and Robert (Season 7).
So You Think You Can Dance performance photos
Melanie and Marko ruled Wednesday night once again with a contemporary that could totally be nominated for an Emmy next season. So it was a no-brainer that Ryan and Ricky, who danced both Broadway and the cha-cha, landed in the bottom three instead.
Jordan and Tadd may have underwhelmed the judges on Wednesday, but it was enough for the voters to keep them in the Top 10. Sasha and Alexander, who have been fan-favorites, ended up rounding out the bottom three who would dance for their lives.
Watch videos from So You Think You Can Dance
After a round of solos, the judges decided to eliminate Ryan, who they say, hasn't been living up to her potential. In a close decision that was not unanimous, the judges decided to nix Alexander, who really has been carried by his partner, Sasha, through the competition.
So, the judges have spoken. Do you like the contestants who made it into the Top 10? Are you happy to see the All-Stars return? Sound off in the comments below.
View original Who Made It Into So You Think You Can Dance's Top 10? at TVGuide.com
Related Articles on TVGuide.com
-Nigel Lythgoe Reveals a So You Think You Can Dance All-Star, Praises Cat Deeley's Emmy Nod
Other Links From TVGuide.com