Simone Biles is 'praying' for Laurie Hernandez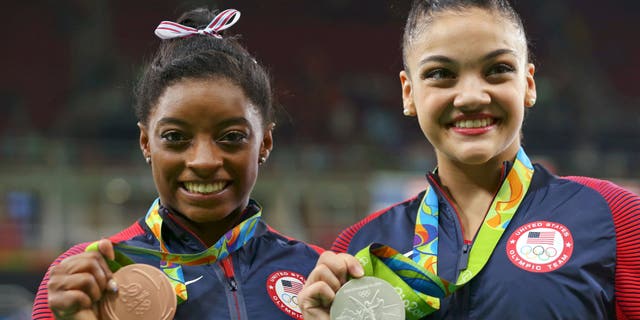 NEWYou can now listen to Fox News articles!
Olympic gymnasts can do a lot of things, but that doesn't include comfortably strutting around in heels.
Simone Biles told Page Six that "Final Five" teammate Laurie Hernandez is "super excited" to compete on this season of "Dancing with the Stars," but that "she's just a little bit nervous to dance with heels."
"So every time she goes out, we're praying for her," Biles told us at Sherri Hill's Fashion Week show this week.
While Hernandez may be nervous about her dancing skills, gymnast Aly Raisman doesn't agree about her own recent performance on Spike TV's "Lip Sync Battle." She said competing at the Olympics made her more nervous than the TV gig.
Raisman also told us how her high-profile friendship with Chrissy Teigen and John Legend came about.
"She tweeted at me asking if we could be best friends so then we kind of just started talking. She helped me get ready for the VMAs … John helped my brother put on a tie. They're really down-to-earth and really sweet."
Although Teigen hasn't made new pal Raisman any home-cooked meals from her cookbook just yet, Raisman did say she wouldn't mind the model whipping her up "something with pasta."
This article originally appeared in the New York Post's Page Six.