Shannen Doherty celebrates five-year wedding anniversary amid cancer battle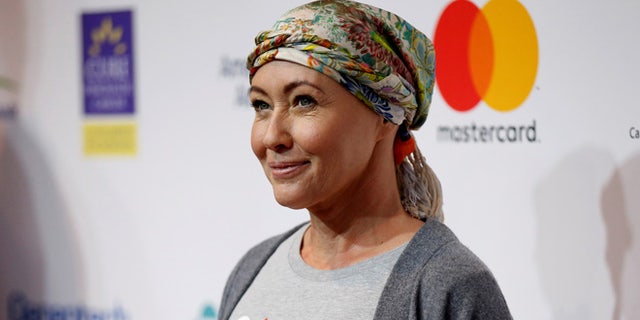 Shannen Doherty is enjoying her getaway to Mexico.
The 45-year-old actress, who has been undergoing chemotherapy in her battle against breast cancer, took to Instagram over the weekend to share snaps of her and her husband, photographer Kurt Iswarienko, celebrating their five-year wedding anniversary surrounded by beautiful sights and wild animals.
WATCH: Shannen Doherty All Smiles While Grocery Shopping With Her Mom
"Mexico City. What an amazing place," she captioned a sweet selfie of her and Iswarienko. "I've been to many spots in #mexico but never here. The food scene is on fire here, history, charm.... it's got it all including childhood memories for @kurtiswarienko who lived here when he was a kid."
In another photo posted by the "Beverly Hills, 90210," alum, the pair can be seen petting a zebra.
"5 years ago today I made one of the best decisions of my life," she gushed on Saturday. "I said 'I do' and married my best friend and soul mate @kurtiswarienko."
NEWS: Shannen Doherty Reveals Her Hair is Growing Back After Chemo
"Life has thrown us some huge curves and we have faced them together with strength, love, passion and a desire to stand next to one another thru it all," she continued. "I have learned what partnership truly is with this man. Yes we love to travel and have adventures together like today... hanging out with Vicky the zebra but every day is an adventure with Kurt regardless of where we are and what we are doing. #thisistruelove #anniversary #mexico."
Iswarienko later took to his own Instagram to share a gorgeous close-up shot of Vicky, captured in black-and-white.
WATCH: Shannen Doherty Has 'Hard' Dance Workout One Day After Chemotherapy Treatment
"6' O'clock in the morning. Electrical storm. Deep in the most magical part of #Mexico," another post read. "The universe is alive and kicking. Happy Anniversary @theshando I love you."
ET caught up with Doherty back in August, where she revealed she "could not have gotten through this" without her husband.
WATCH: Shannen Doherty Says Breast Cancer Battle Has Made Her Marriage 'a Thousand Times Stronger'
"My marriage was always strong, but it's made my marriage a thousand times stronger," Doherty explained. "He's never missed a chemo. He's never missed a sick day."