Sandra Lee's Healthy Food Options for the New Year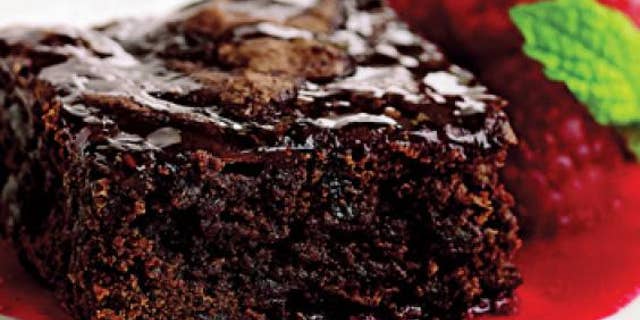 NEWYou can now listen to Fox News articles!
MENU:
HALIBUT-AND-SPINACH PACKETS
TRIPLE-RASPBERRY BROWNIES
NEW YEAR'S MOCKTAIL

HALIBUT-AND-SPINACH PACKETS
Makes 4 servings
148 calories per serving
1 pound fresh or thawed frozen halibut fillets
1 teaspoon garlic pepper
1 box (10 ounces) frozen cut spinach, thawed and squeezed dry
¼ cup chunky salsa
4 slices lemon
8 slices jalapeño chilé pepper
1. Preheat oven to 400°F.
2. Rinse fish under cold water and pat dry with paper towels. Cut into 4 serving portions. Sprinkle with garlic pepper.
3. Cut four 10 x 12-inch pieces of parchment paper or foil. Divide spinach among pieces of parchment paper, placing it to one side. Top each with a piece of fish. Add 1 tablespoon salsa, a lemon slice, and
2 slices jalapeño. Fold parchment over fish and seal packet with a double-fold at each edge. Place packets on a baking sheet.
4. Bake fish for 16 to 20 minutes or until fish flakes easily when tested with a fork. Do not overcook.
TRIPLE-RASPBERRY BROWNIES
Makes 16 servings
199 calories per serving
BROWNIES
Cooking spray
½ cup pitted prunes
1∕3 cup unsweetened applesauce
1 box (19.5 ounces) brownie mix
2 egg whites
¼ cup raspberry liqueur
1∕3 cup raspberry spreadable fruit
RASPBERRY COULIS
2 cups frozen unsweetened raspberries, thawed
2 teaspoons honey
Fresh raspberries and mint sprigs, for garnish (optional)
1. For brownies: Preheat oven to 350°F. Lightly coat a 9 x 9-inch baking pan with cooking spray.
2. In a blender, combine prunes and applesauce. Cover and blend on high until smooth.
3. In a medium bowl, combine fruit puree, brownie mix, egg whites, and raspberry liqueur. Using a wooden spoon, stir 50 strokes. Scrape batter into baking pan.
4. In a small saucepan, heat spreadable fruit over medium-high heat until melted. Drizzle over mixture in baking pan. Swirl into batter with a table knife.
5. Bake 30 to 35 minutes. Cool in pan on rack. Cut into 16 squares.
6. For raspberry coulis: In a blender, combine frozen raspberries and honey. Cover and blend on high speed until pureed. Push mixture through a fi ne-mesh strainer and discard seeds.
7. To serve, spoon 1 tablespoon raspberry coulis on a dessert plate. Top with a brownie. Serve with fresh raspberries and mint, if desired.
NEW YEAR'S MOCKTAIL:
Makes 8 servings
1 cup pomegranate juice
1 cup vanilla yogurt
1 cup of ice
Blend in a blender until creamy. Pour into a martini glass.