'Roseanne' spinoff still has 'issues to hash out,' but has made some 'important progress,' report says
Negotiations for a "Roseanne" spinoff are moving forward and making some "important progress," but there are still roadblocks the creators have to move past, a report said on Tuesday.
A source told People the potential spinoff would revolve more around Darlene, the character played by Sara Gilbert, to fill the gap left by Roseanne Barr, whose racist tweet about former President Obama's aide Valerie Jarrett led to ABC canceling the series' reboot in May.
But there's still work to be done for the spinoff to become a reality, including "issues to hash out," the source said.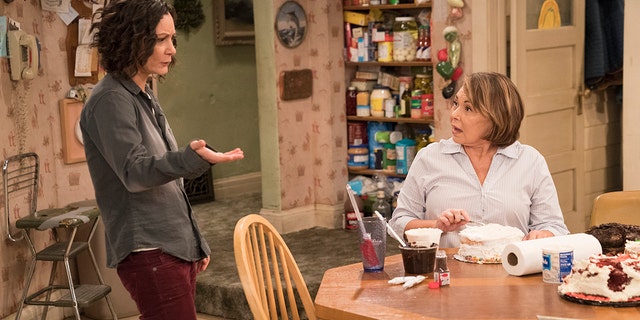 "The key has been how a show can be done where Roseanne neither participates nor profits," the source said. "As of now, she has agreed, at least in theory, to forego any creative or financial involvement in the spinoff to help save the cast and crew jobs."
'ROSEANNE' STAR SARA GILBERT TEARS UP WHILE DISCUSSING CANCELLATION: 'I'M SAD TO SEE IT END THIS WAY'
The Hollywood Reporter said last week that ABC and producer Carsey-Werner do not want any part if Barr is involved in the spinoff.
The negotiation phase for the spinoff will now focus on whether Barr will receive a payment or "go-away money," according to The Hollywood Reporter.
TMZ reported earlier this month that a possible reboot of the series without Barr was in the talks. The outlet reported that Gilbert had contacted her "Roseanne" castmates to gauge how much interest they had in a potential reboot, and that John Goodman is "very interested."
Goodman plays Roseanne's husband and Gilbert's father on the comedy.