Ronda Rousey to star in film adaptation of her autobiography 'My Fight/ Your Fight'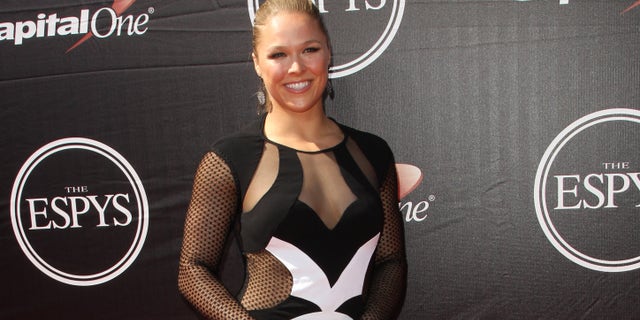 NEWYou can now listen to Fox News articles!
Riding high from her 34-second knockout of Brazilian Bethe Coreria, Ronda Rousey is moving on to her next fight — and her next project. The undefeated UFC champ will tackle another personal journey: her own.
Variety reported that Paramount Pictures has secured the rights to Rousey's best-selling autobiography "My Fight/ Your Fight" with the UFC fighter set to star.
The 28-year-old fighter of Venezuelan descent shared the news on her Instagram account.
"When it's time to make this, I promise to make it special," she wrote in the caption.
Mary Parent, who is producing the film with Rousey, said it's a "real honor to be part of bringing Ronda's incredible story to the big screen."
The autobiography, written by Rousey and her sister Maria Burns Ortiz (a one-time contributor to Fox News Latino), is the inspirational story celebrating Rousey's accomplishments and her path to undefeated glory.
According to Variety, there is no timetable yet for the project to go into production, as executive producer Mark Bomback has just started adapting the book.
Additionally, Rousey is expected to have one more fight before the end of the year and then will start shooting the Pete Berg-directed action film "Mile 22" in January.
Rousey is one of the rare athletes who have seemingly transitioned from fighting to appearing on screen in such movies like "The Expendables 3," "Furious 7" and most recently as herself in "Entourage."
In the meantime, she is relishing in her win Saturday night in Brazil against Correia.
"What a night, sometimes I still have trouble absorbing it all... But ... Wow," she captioned a snapshot from the fight on Instagram.