'Rogue One: A Star Wars Story' teaser trailer finally premieres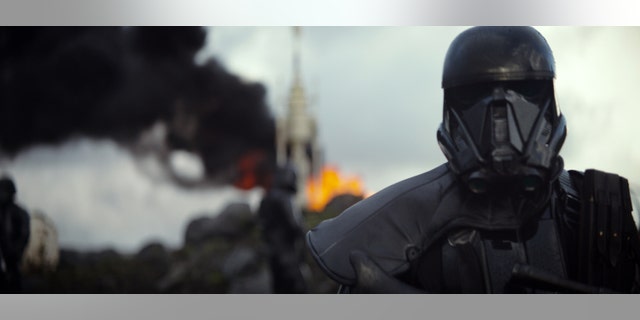 Well, well, Disney, it's about time. In the wake of the $2 billion record-breaking success of "Star Wars: The Force Awakens," fans have waited with bated breath for the trailer to the first spinoff film in the franchise, "Rogue One: A Star Wars Story," and here it is.

Everyone wondered when this trailer was going to drop. With the Dec. 18 release of
Force Awakens?" With "Batman v Superman?" Finally buzz circulated that the "Rogue One" trailer would ultimately debut in time to be trailered with the May 6 release of "Captain America: Civil War." That film is getting a sneak preview next week during Disney's CinemaCon presentation, so it makes sense that the studio is debuting "Rogue One" today on its sister network's AM show "Good Morning America."


Directed by Gareth Edwards, with a script by Chris Weitz and Gary Whitta from an idea hatched by John Knoll, "Rogue One" takes place prior to the 1977 "Star Wars: A New Hope" and revolves around a gang of rebel spies who steal the Death Star plans (which are ultimately uploaded on R2-D2). Details on the film have been tighter than Fort Knox, and the teaser comes as a big revelation of what's to come. Apparently, Jedis nor the force will have a starring role in this movie, though there's been whispers about a Darth Vader cameo. Oscar nominee Felicity Jones a rebellion solider, while Riz Ahmed and Diego Luna are resistance fighters as well participating in the heist. Ben Mendelsohn is slotted to play the villain. Forest Whitaker, Alan Tudyk, Donnie Yen and Mads Mikkelsen also star.
Disney gave us "Star Wars: The Force Awakens" as a Christmas gift last year, and they're going to gift "Star Wars" two more times over the next year-end holiday season: "Rogue One" debuts on Dec. 16, while "Star Wars: Episode VIII" will open on Dec. 15, 2017.

Related stories
'Rogue One: A Star Wars Story' Teaser: Fleeting Peek Before Its 'GMA' Bow'
The BFG' Trailer: Steven Spielberg, Roald Dahl, Disney & Some Really Big Dudes
Will Disney Have To Keep Bob Iger To Resolve Its Succession Problem?