Robert DeNiro Cracks Up Globes Crowd During Cecille B. DeMille Acceptance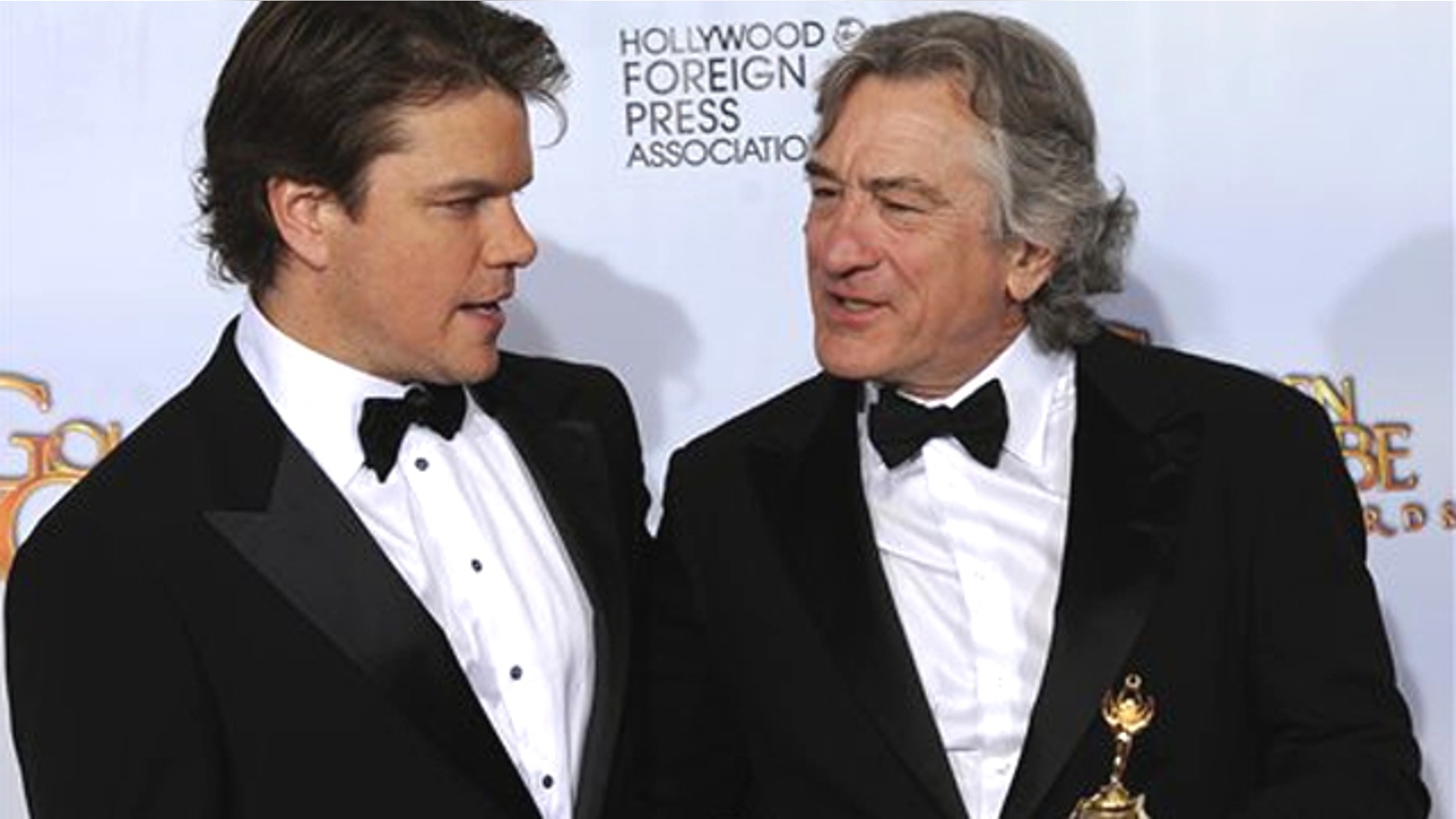 Who knew Robert DeNiro was a comedian?
Sounding more like Bob Hope at the Golden Globes Awards on Sunday night, DeNiro poked fun at his 40-year career as he accepted the Cecil B. DeMille Award for lifetime achievement.
Rather than recount his legendary performances in "Taxi Driver" or "The Godfather, Part II" or "Goodfellas," De Niro joked that "Frankenstein,"  "Jacknife" and "Stone" were missing from the show's introductory montage.
De Niro also noted that the Hollywood Foreign Press Association, which runs the Globes, might not have chosen him for the award had they first seen the widely panned "Little Fockers."
Award presenter Matt Damon, who co-starred in De Niro's "The Good Shepherd," didn't even try to laud him with esteem or fawning praise as is the Hollywood custom. Instead, Damon confused De Niro's roles and credits before finally giving in with the simple, matter-of-fact introduction of "one of the greatest careers an actor has ever had."
But De Niro had the last laugh.
Having quickly silenced the standing ovation like an extravagant overreaction, he turned to Damon and said: "And I loved you in 'The Fighter."'
De Niro was an easy, unquestionable choice for the honor, which has previously gone to Al Pacino, Michael Douglas, Steven Spielberg and Barbra Streisand.
After all, such awards have become somewhat old hat for De Niro.
Just last year, he was on the same podium presenting Martin Scorsese with the Cecil B. DeMille Award. He joked that after 20 years making movies together, the two had spent the last decade presenting each other with awards.
Like Scorsese, the 67-year-old De Niro is still thoroughly involved in moviemaking. In 2010, the same year that celebrated the 20th anniversary of "Goodfellas," De Niro starred in "Little Fockers," "Stone" and Robert Rodriguez's "Machete." Among his many projects awaiting release is an action film, "The Killer Elite," a thriller, "The Dark Fields," and a planned biography of the great football coach Vince Lombardi.
"I plan to be around for a long time, hopefully," De Niro said Sunday.
De Niro has become increasingly prominent behind-the-scenes, too. Aside from occasionally directing and frequently producing, the media company Tribeca Enterprises, which he co-founded, runs the Tribeca Film Festival. The company's forward-looking distribution initiative, Tribeca Film, since last year has sought to get independent films to viewers by way of video-on-demand and other platforms.
The Tribeca Film Festival -- established 10 years ago to revitalize De Niro's New York neighborhood in the wake of the Sept. 11, 2001, World Trade Center attacks -- won't be his only festival this year, either. He's set to head the jury at the Cannes Film Festival in May.
It's a remarkable arc for De Niro, who began by playing roguish, violent outsiders in classic films, and yet has established himself as a savvy insider and entrepreneur, with ventures including upscale restaurants and the luxurious Greenwich Hotel.
The New York-born De Niro studied at the Stella Adler Conservatory and Lee Strasberg's Actors Studio, a schooling that trained him in method acting. His film career began briskly, and he quickly fell in with Scorsese, beginning with 1973's "Mean Streets."
It was the start of one of the most famous director-actor combos in movie history, leading to films including "Raging Bull," "Goodfellas," "Cape Fear," "The King of Comedy" and "New York, New York."
After "Mean Streets," Francis Ford Coppola's "The Godfather, Part II," soon followed, for which De Niro won the first of his two Academy Awards. He again won for his performance as boxer Jake LaMotta in "Raging Bull," which also accounts for his lone Golden Globe Award out of eight nominations.
De Niro's influence on many of the actors present Sunday night was widespread. Earlier in the broadcast, supporting actor winner Christian Bale, shouted his admiration of De Niro while the band played him off the stage.
- The Associated Press contributed to this report.