Richard Short tackles euthanasia in 'Mary Kills People'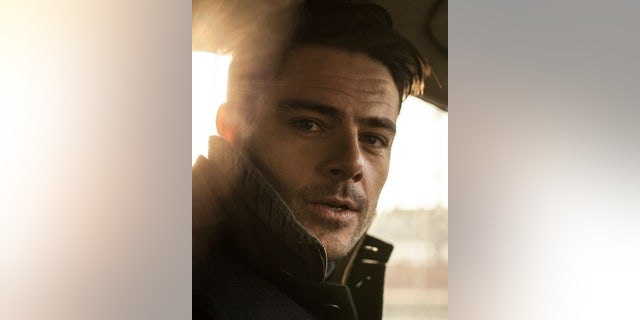 NEWYou can now listen to Fox News articles!
Watching a series about assisted suicide on a Sunday night may not sound like an ideal way to unwind, but actor Richard Short is daring viewers to tune in.
"First and foremost, we're not necessarily aiming to change anyone's perspective on the topic," the 41-year-old British actor told Fox News of Lifetime's "Mary Kills People."
The show chronicles ER doctor Mary Harris (Caroline Dhavernas) who moonlights as an underground angel of death alongside her partner Des (Short) to help terminally ill patients end their lives on their own terms.
"I think people will enjoy it because we aim to make a good, entertaining television show that people can come home to and watch," he added. "That's certainly one of the show's strengths. The thriller aspect, the chase — it's very good at ending and leaving you anticipating for the next episode."
HOLLYWOOD A-LISTERS ARE FLOCKING TO LIFETIME
Short developed his own views on the controversial topic while working on the project.
"I'm not entirely sure why [it's controversial]," he explained. "I'm happy to be an advocate for freedom of choice. But I just don't think it's something you would care deeply for unless it landed upon your own door. And it's only through doing my research, I discovered actual individuals and their stories. That's what turned me on to it… When you hear their stories, it makes you realize that it should really be up to them, not a decision made by the rest of us… You've got to have a bit of an ear, respect for the other side of the argument and good ol' fashioned diplomacy."
While Short emphasize that "Mary Kills People" doesn't aim to make a political statement, but rather tackle a unique subject for entertainment, he acknowledged that off-camera, many actors are choosing to voice their concerns in highly televised platforms, like awards shows.
"It's only become a thing because people are becoming more vocal about actors getting political," said Short. "Why aren't they entitled to a political opinion? Honestly, you're a human being, you pay taxes, you're allowed an opinion…It's just been that some actors, of course, get heard louder than Joe Public because they have a platform… But I think everyone is entitled to their own opinion about the way the world is working… That's the foundation of this glorious country. Everyone should be able to speak their minds and not get entirely offended by other ideas. Join in on the conversation instead."
FOLLOW US ON FACEBOOK FOR MORE ENTERTAINMENT NEWS
Short is also enjoying keeping busy with after his experience with HBO's 1970s rock 'n' roll drama "Vinyl," which was created by Mick Jagger and Martin Scorsese. Despite HBO announcing in February 2016 that it would deliver a second season, the cable network unexpectedly pulled the plug in June that same year due to poor ratings.
"It was a strange turn of events," he said. "But ultimately, you've got to look back and just be really proud of the fact that you were in what's essentially a 10-hour movie produced by Mick Jagger and Martin Scorsese. I'm happy with that."
Short previously stirred headlines for going completely nude in one scene opposite actress Olivia Wilde.
"It was all about trust," said Short on going full frontal. "I've done it on stage before in the theatre and that's far more frightening… Olivia and I have grown close enough for me to trust her explicitly. We came to an understanding instantly. And I was totally in her hands and she in mine, and it was all good. We trusted each other. There was no discomfort really. I thought it was appropriate and very 1970s and worked well with what we were trying to achieve."
While audiences should expect his new character Des to go completely bare in "Mary Kills People," Short hasn't ruled out making the bold move again in the future.
"I was quite happy to do it," he recalled. "I'll do it again!"
"Mary Kills People" airs Sundays at 10 p.m. on Lifetime.