'Project Runway' Star and Design Giant Michael Kors Honored With 2 Lifetime Achievement Awards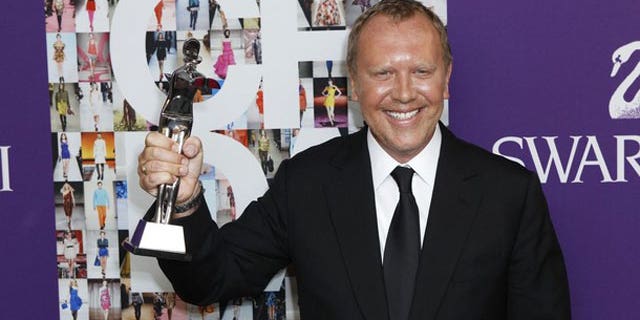 Twenty-nine years IS a lifetime in fashion, yet Michael Kors' enduring youthfulness makes his two lifetime achievement awards this month seem a little surreal.
At 50, Kors is still the guy who bounces down the runway with a bona fide grin on his face. He's the one who calls his mom his muse, the one who likes to do red carpets, the one who gabs it up with customers at trunk shows.
Most of all, he's the guy who still loves what he's doing, and he has no intention of calling it a "lifetime"
"In another 30 years, I don't know what they'll call it," he says, "`a second lifetime achievement?'"
Kors first sold his signature uptown look to Bergdorf Goodman while he was dressing windows at the former midtown boutique Lothar's. Now the Long Island, N.Y., native keeps company with socialites and stars, and became a celebrity himself on "Project Runway" with Heidi Klum and Nina Garcia.
His clothes aren't fussy, and he values function so the pea coats, slinky cocktail frocks, wide-leg trousers and cozy cashmere also work for those without boldface names. (Kors has a second, less expensive line called Michael Michael Kors.)
He favors the color camel, offset by crisp white and jet black. And, in Kors' world, anyone and everyone wears aviator sunglasses.
Kors has created for himself and his fans a wardrobe that implies an appreciation for crisp classics — and a hefty frequent-flier balance. It's "luxurious but low key and laid back," he says.
He's drawn inspiration from Italy's Amalfi Coast, Palm Beach, Calif., and the chicest ski resorts in the Alps, the Greek islands, Hawaii and St. Bart's. It was announced this week that the largest Kors retail store will open next year in Paris, so surely there'll be a little French flair in an upcoming collection.
But there are still other places to explore. "I have never been to Australia and I am doing a huge Australia trip at the end of the year. I'm going to Morocco for the first time — and not because of `Sex and the City.' ... I've never been to Shanghai, and I'd like to go to Peru. I have a Peru fantasy," he says.
Fashion designers need to be students of different places and cultures if they're going to stay relevant and hit the right trends, he adds.
"If you're a modern designer and involved in dressing people for real life, not costumes, the simple truth is fashion is about the zeitgeist. It's about what's right for the moment so the designers have to be plugged in and aware of what's going on," Kors says. "You have to be aware of what's going on in art, politics, the theater — it might be the way a girl tucked her shirt in."
So, trends don't emerge from a secret round-table discussion among top labels? No, Kors says, but it's not a bad idea.
"It would be easier if we did all sit in a room. Why don't we all get together have a cup of coffee and chat?"
Kors knows what he doesn't want to see more of: No more crazy clunky heels paired with microminis and no more rompers. They're both part of the overwrought style that came with the 2000s that seem dated now, he says.
"I am very happy that we're getting out of what I think has been a decade of too much excess. ... Suddenly people felt like they've gorged themselves on fettucine alfredo, and now they're looking for something beautifully prepared and simple — a fresh tomato and mozzarella, a great steak."
Don't mistake Kors for being anything less than a showman, though, when it comes to his catwalk. Twice a year he lives out his Broadway fantasy, creating a lively runway show — with "Xanadu" or Beach Boys music, perhaps — that gets a further boost from a front row that in recent seasons has included Blake Lively, Bette Midler, Michael Douglas, Catherine Zeta-Jones, Jessica Simpson, Ellen Pompeo, Debra Messing, Eva Longoria and Klum.
He brought Gwyneth Paltrow, clad in Kors, of course, as his date to the Council of Fashion Designers of America ceremony when he received the lifetime tribute from his peers. His second prize came from The Fragrance Foundation.
"Michael is a very warm person, very open and positive. He is great to be around," Paltrow wrote in an e-mail to the AP. "When I spend time with him, I feel understood. He is a compassionate person and not totally self focused, which is rare for such a successful designer."
She adds: "His clothes are eminently wearable in a classic American way, never over the top or so constructed that you can't move your body or breathe, which is something I value highly."
The era of celebrity has changed fashion, Kors says, but that's not necessarily a bad thing. Actresses, rock stars, supermodels — and the first lady, for that matter — can all serve as a divining rod for the broader fashion public, steering them toward flattering styles. A busy mother, for example, can look to a Michelle Obama or Paltrow as inspirations for pulling it all together while remaining relatable and even practical, he says.
Still, he wishes a few more would break out of the box and try something new.
"It would be nice to see someone show up at the Oscars in a shirt and a pair of pants, a magazine cover with an actress in a real clothes," Kors says. "If I see another slip dress on an actress I'm going to scream."