Princess Eugenie announces date for royal wedding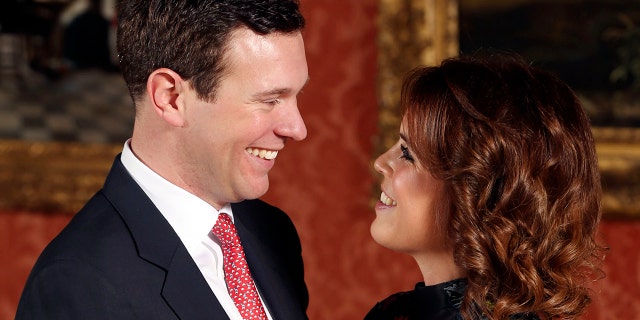 The wedding date for Princess Eugenie has officially been confirmed.
On Friday, the royal family's official Twitter account tweeted the details of the upcoming Fall nuptials.
"The marriage of Her Royal Highness Princess Eugenie to Mr. Jack Brooksbank will take place on 12th October 2018. As previously announced, the wedding will take place at St. George's Chapel, Windsor Castle."
While Prince Harry and Meghan Markle will walk down the aisle in May, Eugenie and her fiancé, Jack Brooksbank, will marry in October. But the two very different royal couples will marry in the same location – St. George's Chapel.
Originally, the Princess and her fiancé, who have been together for seven years, wanted to be married immediately and desired a September wedding date. But earlier in the month, it was reported that the Princess and her fiancé would have to postpone their wedding by a month due to jam-packed royal responsibilities as well as the anticipated post-wedding tour for Prince Harry and Meghan Markle, who will wed on May 19.
Princess Eugenie's father, Prince Andrew, said of the upcoming nuptials, "It's now about finding the time and the date and getting it all organized, I think probably in the autumn some time, is the time everyone is looking at. We can't fix a date yet, we've got to look at everybody's diaries – it's a bit more complicated than that."
But Brooksbank's grandmother, Joanna Newton, confirmed the wedding would take place in October.
"It will be down in Windsor and it will be in October. I do know that they're now not going to get married in September. He said 'We can't get married in September now so we will have to get married in October."
Now the royal family will officially prepare for a royal wedding in the spring and another in the fall.
Fox News' Diana Falzone contributed to this report.