People's Choice Awards spoofs Steve Harvey's Miss Universe blunder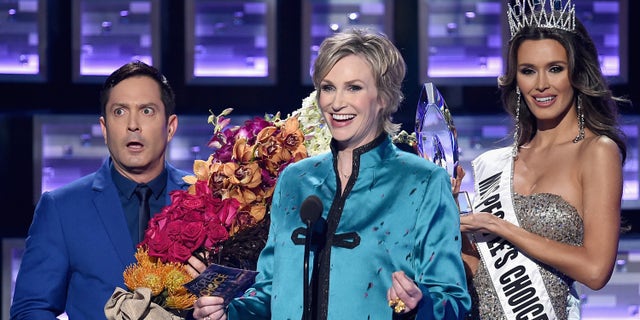 Steve Harvey can expect to be the butt of many jokes this award season after his Miss Universe gaffe.
At the People's Choice Awards on Wednesday, Jane Lynch kicked off the show by spoofing the "Family Feud" host's international blunder with the help of actor Tom Lennon and a Miss Colombia look-alike.
"We're trying something new this year," Lynch, 55, told the crowd at the Microsoft Theater in Los Angeles. "This year People's Choice Awards has picked one entertainer who, for whatever reason, has never won a People's Choice Award, but who we believe is deserving of one."
She then called up "The Off Couple" star to the stage, but in the middle of his acceptance speech, Lynch pulled a Harvey.
"I'm sorry. I have to apologize here. First runner-up is Tom Lennon. The winner is Miss Colombia!" she said, bringing out a Miss Colombia look-alike as Lennon stood with an exaggerated stunned look on his face. "Listen, it's my fault, I didn't bother to come to dress rehearsal and man, I just read the card wrong."
The ladies of "The Talk," who won Favorite Daytime TV Hosting Team, also poked fun at Harvey when a Kanye West wannabe interrupted their acceptance speech.
Clad in a red leather jacket, the stage-crashing member took the microphone to plug hip-hop artist Kevin Gates.
"My name is Zacari Nicasio. Shoutout to Kevin Gates ... Yeezy jumped over the Jumpman, yes sir," he said.
Sharron Osbourne shooed Nicasio away with a kick, while her co-host Sheryl Underwood called security.
"You ain't going to pull no Steve Harvey up in here," she said. "No sir, no sir."
As for the night's winners, "Furious 7" was named favorite movie, with star Vin Diesel getting choked up while talking about his late co-star Paul Walker. The action star also began the film's song "See You Again" before walking off the stage.
"The Big Bang Theory" won top TV show and Ellen DeGeneres set a record for favorite daytime TV host to 17 wins. She also received the Humanitarian Award.
"This is crazy, I mean, so, so deserved, but this is crazy," she joked. "I just think that kindness is something that we should all have. That's an innate quality that we have and we need more of that out there. I read a great quote recently, 'What if there was no such thing as love? Just proof of love.' I don't know if it was from the Bible or an Instagram, but either way it's powerful."