'Paranoia' review: It's a very predictable film for millennials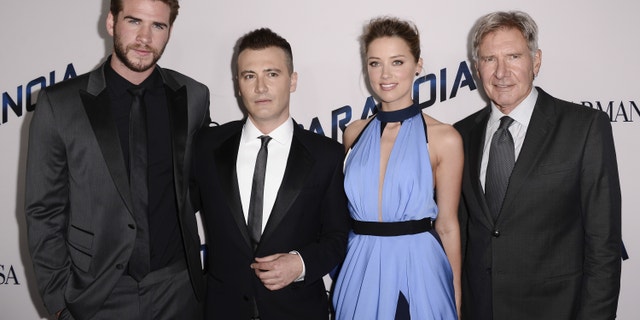 There seems to be a severe lack of paranoia in "Paranoia," the new pseudo-techno thriller for millennials. Save for one brief scene where Liam Hemsworth's computer developer Adam Cassidy realizes his house is bugged, "Paranoia" is a complete misnomer in name and style.

However, "Paranoia" is an interesting anomaly among films targeted at today's younger, pop culture-obsessed generation: It's a drama that isn't about superheroes, hangovers or first dates. This is a corporate espionage film which, typically, is reserved for, well, non-millennials.

Don't worry Gen-X'ers and Baby Boomers, you're covered too with Harrison Ford and Gary Oldman as two rivaling cell phone tycoons, but their involvement is minimal compared to Liam Hemsworth and Amber Heard. But despite the younger appeal of Hemsworth and Heard, Ford and Oldman chewing up scenery are the primary justifications for seeing this. Oldman, alone, nicely sucks the attention away from the other cast and takes the focus off the plodding script. Ford isn't as dynamic as Oldman, though, but he tempers his intensity, which in his own way, is endearing enough. Having Oldman and Ford co-star in a thriller should be a must-see event, and the two are just wonderful together, but unfortunately this is just the wrong project.

"Paranoia" begins as a breezy, enjoyable and somewhat smart film. Liam Hemsworth is Adam Cassidy, an ambitious but struggling developer for Nicholas Wyatt (Oldman) who, due to his own misdeeds, winds up a pawn in a game of cat and mouse between Wyatt and rival tycoon Jock Goddard (Ford). Wyatt blackmails Cassidy into infiltrating Goddard's corporation as a high-level executive in order to steal plans for some new super-secret cell phone. Of course, as Cassidy spies on Goddard, he becomes infatuated with Goddard's head of marketing (Amber Heard), thus poking holes in everyone's plans.

The plot very quickly becomes convoluted the more Cassidy doesn't know who's playing him: Wyatt, Goddard or both, and unfortunately the film trips over its own feet more often than not and becomes a massive eye-roll by film's end. "Paranoia" is as predictable as they come, which is disappointing because it's very apparent that director Robert Luketic is making a great effort to be sly and inventive, striving to make something as impactful as the superlative 2011 financial drama "Margin Call" or "Arbitrage," but unfortunately resorts to cheesy gimmicks, incredible amounts of disbelief and very forced dialogue.

"Paranoia" also co-stars Richard Dreyfuss as Cassidy's ailing father, the impetus behind his decision to become a corporate spy. The Oscar-winner makes the best of such a boring stereotype and delivers a heartfelt performance. Embeth Davidtz and Josh Holloway ("Lost") also round out the supporting cast.

The screenplay by Jason Dean Hall and Barry Levy, based on the novel by Joseph Finder, attempt brief, superficial messages up front, touching upon young people's inability to afford health care and admonishing corrupt corporate CEOs by tech-savvy millennials besting them with technology. But these themes quickly get tossed in favor of sordid, predictable suspense movie tactics, which just aren't very suspenseful or even that interesting.

And only in the movies does it take 17 seconds to transfer two and a half gigabytes of data onto a thumb drive, which does happen during a not-at-all suspenseful race to steal data. Perhaps that moment, more than any in "Paranoia," is most representative of this film's preposterousness.

However, "Paranoia" should be commended for attempting to give younger audiences something more mature to digest at the movies, but unfortunately once the film hits a dead zone, the reception is lost for good.

MPAA Rating: PG-13. Running time: 1 hour and 40 minutes.