Our Favorite Magicians Ever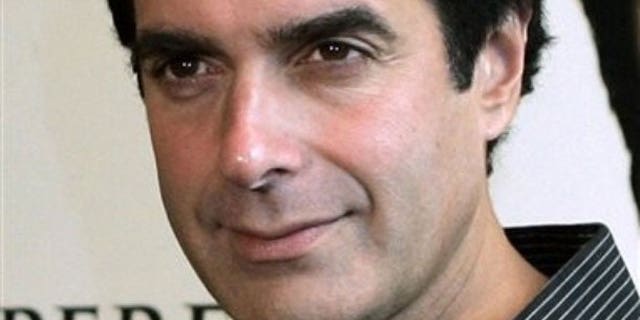 This week the 2009 World Magic Awards aired on MTV, and while prestidigitation sometimes gets a bad rap (OK, we admit Doug Henning did not do much for the industry's hip factor), in our minds, the thrill of illusion doesn't get the credit it deserves.
We saw David Copperfield perform in the '80s. He made a motorcycle — with him on it — disappear from the stage and reappear in the middle of the theater on a platform that covered a few rows of seats about 20 feet away from us. Now we get that there was probably a stunt double onstage, but there was NO accounting for the bike. People nearby were touching it and the chairs below it. It was not a hologram or mirror trick. There was no trap door in the floor and nothing suspended from the ceiling — just a 650-pound chopper carrying the Master of Illusion himself. It blew our minds.
To us, all the current-day spellbinders owe a huge debt of gratitude to Copperfield. And while many of the performers' presentations can be a bit cheesy, we are big fans of the art. Here's our list of our favorite magicians EVER!
Photo gallery: See the best — and the cheesiest — magicians of recent years.
Siegfried & Roy
It's a life-long question that only Hall and Oates can relate to — which one is Siegfried and which one is Roy. The answer is simple: it doesn't matter. One would not be a success without the other. Siegfried Fischbacher and Roy Horn met on a cruise ship where Siegfried was a magician. Roy (the dark-haired one, for those who are still curious) joined him as his assistant and upped the ante by adding a cheetah to the act (Roy had allegedly smuggled the wild animal onboard the ship). The German-born magicians ultimately became a staple of the Las Vegas magic scene, signing a lifetime contract with Steve Wynn's Mirage Hotel.
But things went terribly wrong on Roy's birthday in 2003. That night, one of their legendary white tigers, Montecore,grabbed Roy by the neck, seriously injuring the illusionist. There are many theories about what happened that night. Some say Montecore tried to protect Roy when he stumbled, in a protective mother/cub kind of way. Some say it was a brutal attack by a wild animal. Still others contend that Montecore got distracted by the oversized hairdo of a fan in the front row, and that when the woman reached out to pet the dangerous feline, Roy sacrificed himself by getting in between them. A final theory holds that Montecore, injured by a trap door, was scared and accidentally injured Roy in a pileup with the tiger and some stagehands.
Whatever Montecore's motivation, the illusionist was in critical condition for weeks and suffered partial paralysis as the result of a stroke. The act was put on hold for five years while Horn went through intensive rehabilitation. But six years later, Roy proved to the world — and the tiger —that it was all water under the bridge. In a ten-minute performance filmed for "20/20," Siegfried, Roy, and Montecore performed together one last time before officially retiring.
Doug Henning
Doug Henning was a Canadian il-LUUU-sionist who brought a truly theatrical flair to his work (and his stage clothes). The Houdini hippie created a live stage show in the early '70s directed by fellow Canuck Ivan Reitman; Henning later brought the Tony-nominated show to Broadway. His magical routines soon became an annual network television event called "Doug Henning's World of Magic." He also created stage effects for such performers as Michael Jackson and Earth, Wind, and Fire.
But Doug never had a chance to see his biggest dream materialize. The project, called Maharishi Veda Land, was the brainchild of Henning and the founder of Transcendental Meditation, Maharishi Mahesh Yogi. A Disneyland for the spiritually attuned, the destination location was to combine theatrical illusions and technology with the teachings of sacred Hindu texts. The thought that such a place could exist and succeed sounds implausible to us. But in the words of Henning, "Anything the mind can conceive is possible. Nothing is impossible. All you have to do is look within, and you can realize your fondest dreams."
David Blaine
In the mid '90s, David Blaine looked like he was on the fast track to becoming a legendary magician. His first TV special, "David Blaine: Street Magic" was a SERIOUS mind-freak (take that Criss Angel!), and his quiet and thoughtful demeanor was often spellbinding. Then he became a stunt magician, constantly trying to one-up himself with endurance tests: being buried alive, freezing himself in a block of ice, and standing inside a plastic box on a pillar. Was this magic or a way to avoid getting a real day job?
Either way, we can pinpoint the moment when David Blaine crossed over from being cool to being odd, and it wasn't even in his control. During Michael Jackson's still inexplicable 2002 VMA acceptance speech for what he thought was the Artist of the Millennium Award (it was, in fact, a sparkly decoration on a birthday cake), MJ said these simple words, "David Blaine, your magic is real, and I believe in you." Not exactly a career-building character reference.
Penn & Teller
Penn & Teller are often called the "Bad Boys of Magic." Penn Jillette (the loud, tall, funny one) and Raymond Teller (the short, silent, creepy one) are known for their gory, macabre tricks that combine illusion, comedy, juggling, and mime with a touch of politics. They describe themselves as "a couple of eccentric guys who have learned how to do a few cool things." Their act includes a strait-jacketed Penn hanging over a bed of spikes, Teller's run-in with an 18-wheeler, knives going through hands, and the ultimate version of the bullet trick, in which they both simultaneously fire guns and catch each other's bullets in their mouths.
"Penn & Teller: Bulls#*t!," their Showtime TV series now in it's fifth season, exposes fraud and fakes and debunks the myths from everything to New Age healing and relaxation techniques to alien abductions. Personally, we think that Penn's best illusion was making himself disappear after week one of his stint on "Dancing with the Stars."
Harry Anderson
You might know Harry Anderson from his days as Judge Harold Stone on "Night Court," but he's actually quite an accomplished magician. In fact, he got his start as a kid doing card tricks and shell games on the street and doing gigs at Hollywood's legendary Magic Castle. That honor led to a recurring guest spot on "Saturday Night Live," which won him the role of Harry "The Hat" Gittes on "Cheers." From there, he went on to "Night Court," playing the wacky judge who's an amateur magician obsessed with Mel Torme (two character traits shared by Anderson that the creator claims were coincidental).
Then, after playing a fictionalized version of humor columnist Dave Barry on "Dave's World," Harry left the TV spotlight and returned to his first love: illusion. He moved to New Orleans, where he opened a curiosities shop called Sideshow and a nightclub named Oswald's Speakeasy. Sadly, he and his family left New Orleans after the devastation of Hurricane Katrina. Anderson still tours as a magician and regularly hosts magic conventions.
Lance Burton
Since his first magical moment as an audience volunteer at age five, Lance Burton has been fascinated with the art of prestidigitation. His first bewitching moment in the spotlight should have been the sign that he would go on to have a career in illusion. Only one week after moving to Los Angeles, he made his first appearance on "The Tonight Show." Magic fan Johnny Carson was so impressed with the young man's talent, he gave him an unheard-of 12 minutes of air time. No one would have suspected then that he would grow up to be the most famous magician on the Vegas Strip. After long runs at the Folies Bergere and the Hacienda Hotel, Burton settled into his new home, signing a 13-year contract with the Monte Carlo Resort to work his magic in the Lance Burton Theater. If you find yourself in Sin City anytime soon, check out his newest illusion: the $10 million "Solid Gold Lady."
Neil Patrick Harris
Neil Patrick Harris, an amateur magician, has said that his tricks are better suited for the talk show circuit than a club. He's performed his sleight of hand on "Late Night with Jimmy Fallon," "The Late Show with David Letterman," "The Tonight Show with Jay Leno," and "The Ellen DeGeneres Show." His tricks are so impressive that he managed to cast a spell on the powers that be at the Magic Castle, who invited him to sit on their board of directors — the first celebrity to be so honored since Cary Grant.
Sure, he's hosted the Emmys and the Tonys, but more impressive to fans of illusion, he hosted the 2008 World Magic Awards. Harris, who became a self-proclaimed magic geek as a kid, admits there is a certain nerd stigma to the art, saying, "It's the coolest hobby in the world, but people tend to get into magic because no one would talk to them."
Criss Angel
MTV has dubbed Criss Angel "the post-modern Houdini." The star of the A&E series "Criss Angel Mindfreak" is a bit too pretentious for our tastes. But he has been named Magician on the Year five times in a row, the first illusionist to achieve that honor. Plus, he can levitate, walk on water, and cut himself in half. And as a self-proclaimed escapologist, he has freed himself from strait-jackets and imploding buildings and even got run over by a steamroller while laying on a bed of glass. Maybe Perez Hilton is not a fan (he tweeted during a performance of Angels' Vegas Cirque du Soleil show, "Believe," that he'd "rather be getting a root canal"), but his "Loyals" — the nickname of his hardcore "Mindfreak" fans — would follow him to the ends of the earth, or at least to his latest "Mindfreak: Secret Revelations" book signing.
Ed Alonzo
If Ed Alonzo looks familiar and you're not a magic fan, you must have loved "Saved by the Bell" when you were growing up. Alonzo played the owner of everyone's favorite hangout, The Max (which was also his character's name). After guest-starring roles on other sitcoms, he started doing a comedic magic act at the Great America theme park in Santa Clara, California. Ed's continued to work his magic on TV and in live venues and recently designed and performed illusions in Britney Spears' big comeback — her 2009 Circus Tour – but unfortunately he couldn't make the lip-syncing rumors disappear. Sadly, Ed didn't get the chance to join Michael Jackson during his planned London concert appearances, but he did witness Jackson's final rehearsal just before the King of Pop's untimely death.
More at GetBack.com:
Stars Who've Confessed Their Love to Oprah