One dead after stage collapses at Toronto Radiohead concert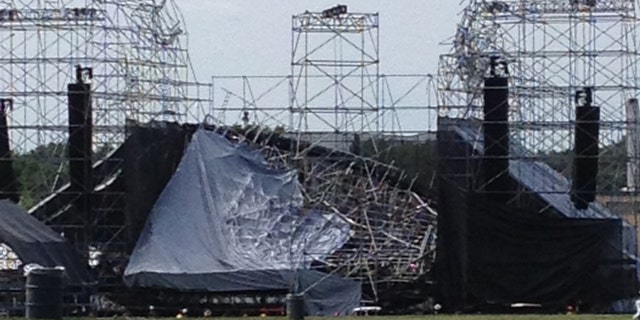 TORONTO – Investigators combed through the wreckage of a Toronto stage Sunday to determine what caused the structure to come
crashing down ahead of a Radiohead concert, killing the band's drum technician and injuring three other crew members.
The British band said it was devastated over the death of Scott Johnson, a U.K. citizen in his 30s who was trapped under the rubble and pronounced dead at the scene.
"We have all been shattered by the loss of Scott Johnson, our friend and colleague. He was a lovely man, always positive,
supportive and funny; a highly skilled and valued member of our great road crew," the band said on its website. "We will miss him
very much. Our thoughts and love are with Scott's family and all those close to him."
Toronto Police spokesman Tony Vella said a 45-year-old man hospitalized with a head injury was improving and his life was not
in danger. The other two crew members were treated at the scene.
Officials from the Ontario Ministry of Labor searched through the wreckage for clues to the cause of the collapse Saturday in
Downsview Park. They were also investigating whether safety regulations and standards were followed and if staff were properly
trained.
Ministry spokesman Matt Blajer said the massive structure is "still fairly unstable" and work is under way to make it safe. He said the investigation is "fairly complex" and it could take some time to figure out exactly what happened. Blajer said they have three inspectors and two engineers going through the wreckage. They were provided with engineer drawings.
Vella said criminal charges could result but added that it's early in the investigation.
Live Nation, the company that organized the concert, did not immediately return calls seeking comment Sunday.
Radiohead's website had listed the concert as being sold out, with 40,000 tickets sold. The band said fans could get refunds for
the cancelled show at points of purchase. Police said the park wasn't full when the collapse occurred at about 4 p.m. but there was a considerable crowd already waiting for the show amid sunny skies.
Mike Kensey, 26, said he arrived at the venue hours early to get a spot close the stage and see the opening act by Canadian band
Caribou
"It was like fireworks went off and then boom, the stage just crumbled to the ground in a matter of seconds," he said. "I had
never really seen anything like it."
Many of the disappointed fans headed instead to Yonge-Dundas Square in downtown Toronto, where "Spinner Magazine" was hosting a free concert headlined by the Flaming Lips as part of the weeklong North by Northeast musical festival.
Flaming Lips frontman Wayne Coyne paid tribute to Radiohead throughout the show, including performing a cover of Radiohead's
"Knives Out," which he introduced saying "peace be with their hearts tonight."
Six people died last August when the stage collapsed at a Sugarland concert in Indianapolis; five died in Belgium when a
storm swept in and toppled the stage at the Pukkelpop Festival.