Omarosa claims on 'Big Brother' she was shunned from WH meetings because she's a black woman
Omarosa Manigault Newman lobbed her latest big accusation against the White House in a "Big Brother: Celebrity Edition" clip released Sunday, claiming the Trump administration shunned her from major meetings because she's a black woman.
In the new clip released by CBS, featured below, Omarosa started by declaring she's planning to write a tell-all book about her time as the head of the White House Office of Public Liaison -- and her subsequent firing. However, she's not saving all the juicy details for the book. In the montage, she revealed that she expects to be locked in a legal battle with the president over her claims.
"I'm thinking of writing a tell-all sometime. He's going to come after me with everything he has. Like, I'm going up against a kazillionaire. So I'll probably end up in court for the next... but I have to tell my truth. I'm tired of being muted," she says. "All the stuff that I just put on a shelf somewhere out of loyalty — I've been defending somebody for so long, and I'm now I'm like, yo, you are a special kind of f---ed up, and that special breed, they're about to learn all about it."
She then likened the day she was forced to leave her position as similar to being freed from a plantation. During another conversation with her fellow houseguests, she explained Trump's propensity to use Twitter as a way to distract the media.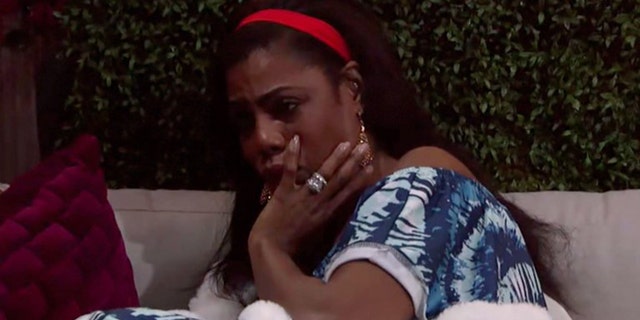 "What he does is, tweet something controversial and the news will distract and spin... Donald will tweet something, insult somebody's face and the press will be on that for three days and we push through sixteen unfunded mandates and nobody would notice," she said. "He'll never get off Twitter."
Later she explained that Trump's tweets weren't monitored late at night.
"He's up in his underwear at 4 in the morning, who is going to monitor that? Remember, the bad tweets happen between 4 and 6 in the morning. Ain't nobody up there but Melania," she said. "Have you seen that rock on her finger?"
Later in the clip, Manigault Newman dropped her biggest allegation yet. She claimed that she was silenced at high-profile meetings simply because she's a black woman, something the entire Trump White House is, in her view, lacking.
"I was literally the only African American woman on the senior staff. Nobody knows what I went through. Nobody's seen... I haven't even told people some of the horrors that I experienced," she said. "I'm inside trying to fight for my own political life while I'm going into meetings with people who are ignoring me. Because I was black, people wouldn't even talk to me. It wasn't just the black thing, it was the woman thing."
The Trump White House has fought back against Omarosa, with administration officials saying they didn't take her claims seriously. "Omarosa was fired three times on 'The Apprentice.' This was the fourth time we let her go," Deputy Press Secretary Raj Shah said earlier this month.
While Omarosa claimed Trump's aides may have to reexamine their relationships with the black and female communities, she said she enjoyed the confidence of the president himself up until the end.
"These men felt like 'we don't need any woman telling us what we need to do.' Then here's the president asking, 'did you ask Omarosa what she thinks?' So, then they hated me more,'" she said. "I'm trying to figure out, why am I cut out of this meeting? Why don't I know about the decision that's impacting black children, or why won't you tell me about the welfare reform meeting? I'm the one that was on welfare, shouldn't I be the one helping you?"