Olivia Munn Wants a USO Tour, Five Kids, and a Normal Love Life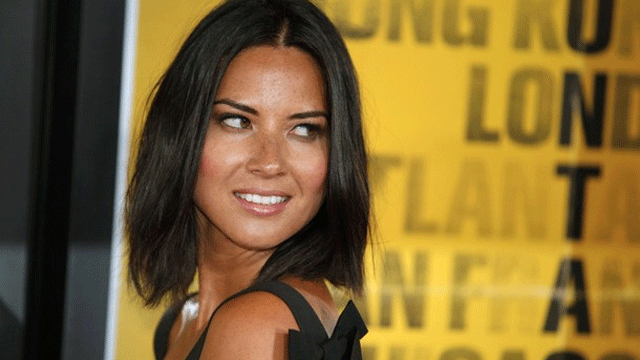 Olivia Munn has been quite busy acting in television and movies, posing for sexy magazine covers, and authoring bestselling books. But Munn wants to add something special to her crowded calendar: a USO tour to visit our troops stationed overseas.
"I've been trying to figure it out and work it out and come up with the right, perfect time to do it. I'll go anywhere. I don't care, just give me  a back pack and some Capri-Suns and I'm good. I'd love to," Munn, a military brat herself, told FOX411's Pop Tarts column while promoting her new film "I Don't Know How She Does It." "It's a big dream of mine to be able to go around, and if I can make some people smile, then I will journey across anywhere."
And, unlike her character Momo in the recently released romantic comedy, Munn is very sure of one more thing – she wants to be a mother some day.
"I've always wanted to have a big family and I've always wanted to adopt. Coming from a family of five, I think five is a good number," Munn said. "I don't know if I want to have five actual children coming out of my vagina, but adoption is important to me because there's so many children that need a home and need love."
Munn has experience growing up in an adoptive situation.
"I grew up in a family where my stepfather wasn't a very nice guy, my first stepfather, because my second stepfather is great, but the first one wasn't a nice guy," she said. "And I have very vivid memories of being four or five years old and just feeling helpless and feeling like, 'How do I get out of this?' and not having anyone to really turn to because kids are a lot more aware than you might think, or people give them credit for."
Speaking of personal issues, Munn has also had to come to terms with the fact that much of her private life is now public, including widespread reports last year that she and Justin Timberlake were dating.
"That particular time was a hard time in my life because you go into something with the best of intentions and regardless of what happens, they're real feelings and real people and it's always shocking, like, 'Oh that sucks,'" she said. "Other than that, my first relationship that got out there was with this one guy in 2009, we actually were together for three months before anyone even knew we were together."
(Our guess is she is referring to actor Chris Pine.)
"People also thought I was linked to Matt Morrison, who's actually a very good friend of mine, and that wasn't true at all. He was being super jokey, but he's one of my best guy friends in the world, and literally it was a situation of weird camera angles where it looks like I'm kissing him and I'm really just flipping my head," she said. "But other than that, I dated someone for four months, not that long ago, and no one knew, and he's an actor."
Munn says she has little sympathy for Hollywood types who cry and complain about their romances being exposed by tabloids and prying paparazzi.
"When I see people who get 'outed' I do think it's strange honestly, because you don't have to go to certain places," Munn added. "Just be careful who you tell, because I don't tell many people in my life. My two best friends are an architect and a nurse, my two best girlfriends. They're my friends, they don't care about this whole world."
Deidre Behar contributed to this report.