Nina Simone's daughter comes in defense of Zoe Saldaña, says attacks are 'unfortunate'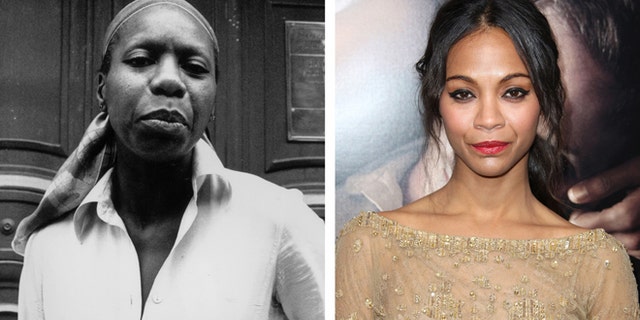 NEWYou can now listen to Fox News articles!
Zoe Saldaña, who's been at the end of some serious backlash over her portrayal of legendary Nina Simone, is now getting the support of the singer's only daughter.
"It's unfortunate that Zoe Saldana is being attacked so viciously when she is someone who is part of a larger picture," Lisa Simone Kelly, 53, told Time magazine. "It's clear she brought her best to this project, but unfortunately she's being attacked when she's not responsible for any of the writing or the lies."
Instead, she said, the anger should be steered toward the film's director, Cynthia Mort, who did not consult Simone's family during production.
The controversy erupted after the trailer and first poster for the upcoming biopic "Nina" were released last week. Upon seeing them, fans lashed out on social media claiming Saldaña's skin had been darkened, with some equating it to "black face."
Additionally, a verified Twitter account representing Simone's estate slammed the Dominican-Puerto Rican actress after she tweeted a quote attributed to Simone.
"Please take Nina's name out of your mouth. For the rest of your life," the account tweeted.
Simone Kelly clarified that the tweet directed at Saldaña did not come from the Simone estate, but a family friend who was hired to run the singer's official social media accounts.
However, she agrees with the rest of the family in that her mother is being falsely portrayed in the film.
"The movie is about a relationship between my mother and [manager Henderson] Clifton which never took place. They never had an amorous relationship," said Simone Kelly, adding that Henderson was gay.
"The project has been tainted from the very beginning," she added. "Clearly, it is not the truth about my mother's life and everyone now knows that. This is not how you want your loved ones remembered."
And while Simone Kelly defended Saldaña, she did voice her displeasure with the actress' physical appearance in the film as well as the biopic itself.
"There are many superb actresses of color who could more adequately represent my mother and could bring her to the screen with the proper script, the proper team and a sense of wanting to bring the truth of my mother's journey to the masses," she said. "And 'Nina,' in my opinion, doesn't do any of that."
"Nina" will hit theaters on April 22. RLJ Entertainment, the film's distributor, has not commented on the storyline but defended Saldaña in a statement last week.
"Zoe Saldaña delivers an exceptional and mesmerizing tribute to Nina Simone. She gave her heart and soul to the role and displayed her extraordinary talent," said Robert Johnson, the company's founder and CEO. "The most important thing is that creativity or quality of performance should never be judged on the basis of color, or ethnicity, or physical likeness."
Simone Kelly said she is more at peace with her mother's story after the documentary "What Happened, Miss Simone?" was released – and received a 2016 Oscar nomination. According to the family, it accurately depicts the life of Simone, who died in her home in France in 2003 at the age of 70.
"I'm no longer bothered by it because the truth is already out there," Simone Kelly said. "I don't have to justify, define or educate anybody about my mother anymore. It's a wonderful feeling. I'm free in a way that I have never been before."
Like us on Facebook
Follow us on Twitter & Instagram