'Night Shift' to air episode created and acted by vets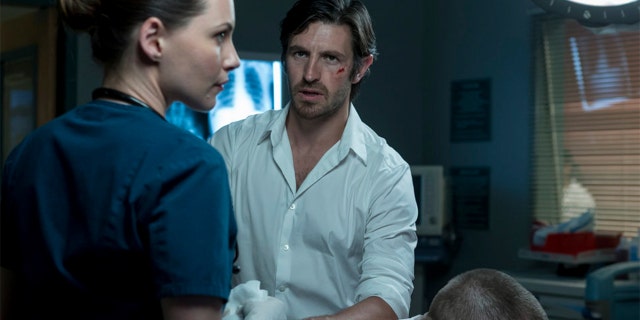 Producers of NBC's medical drama "The Night Shift," set in San Antonio, have vowed to make the show's Veterans Affairs hospital an important part of the series.
The reason? There are several Army bases and a lot of military personnel (including retired vets) in the area.
"It was a logical way that the staff of the hospital could end up being primarily military," says executive producer Jeff Judah. "Every year, we amp it up. We like the military doctors and personnel who've been under fire. These are doctors who've served their countries — not their country club."
Production is under way in Albuquerque, New Mexico, where "The Night Shift" is filmed, on an episode titled "Keep the Faith" that will be written, directed and performed by actors who are also veterans. The episode is scheduled to air Aug. 10.
Among the vets who served in the armed forces before they took up acting are US Navy vet Timothy Busfield ("thirtysomething"), who directs "The Night Shift," Marine Corps vet Dan Lauria ("Pitch") and Iraq War Army Ranger Josh Kelly ("UnREAL"), both of whom are in the cast. Army vet Bryan Anthony, who did five deployments overseas from 1997 to 2010, wrote the script for the "Keep the Faith" episode.
"Bryan and Josh were in the same company in Iraq," Judah says.
Anthony's script is inspired by the 2014 protests led by the Westboro Baptist Church in Kansas. Lauria plays a protester of veterans' funerals who believes that "all soldiers deserve to die because the US embraces gay people," says Judah. Former US Army Air Defense Operator Yvonne Valadez plays a young photographer who "loses her identity after she was discharged."
Judah says making military figures a significant part of the series was a very gradual process that required winning over reluctant network executives who were expecting a more straightforward medical drama. "In Season 1, we started blending taking over VA cases in a private/public partnership," he says. In Season 4, "some of the characters [Drs. T.C. Callahan and Syd Jennings] are in Syria. Eventually we asked ourselves, 'What if we did an episode written and directed by a veteran?' "
"The Night Shift" kicked off its fourth season with a new cast member, ER nurse Cain Diaz (Mark Consuelos), and with Dr. Jordan Alexander (Jill Flint) leading the charge to treat more veterans and military personnel at San Antonio Memorial. "She's trying to save the hospital. The hospital has been purchased by a corporation threatening to dismantle the ER," Flint says. "She wants to care for our veterans. That would be her agenda. What makes our show different from [other medical shows] is the military aspect.
"It has become another character."