Neil Young and Daryl Hannah cozy up one month after announcing divorce from wife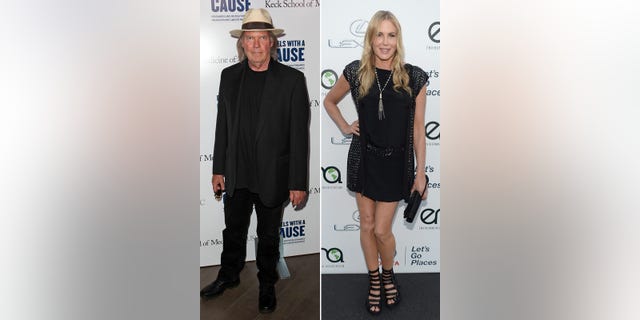 Legendary rocker Neil Young was spotted on a cozy date with actress Daryl Hannah, less than one month after he filed from his divorce from his wife of 36 years, Pegi Young.
The two were seen walking arm-in-arm and sharing a kiss on a date in Westlake, California on September 9.
Neil, 68, had his arm wrapped tightly around Daryl's waist, and Daryl, 53, even planted a kiss on Neil's cheek, as seen in photos here.
This is the first woman that Neil has been linked to since filing from divorce from wife Pegi Young, 61, on July 29. The couple were married in 1977 and have collaborated on many love songs throughout their marriage.
Neil and Pegi have two children together, Ben, 36, and Amber Jean, 30. Neil is also father to Zeke, 42, — his mom is actress Carrie Snodgress. Both Ben and Zeke have cerebral palsy.
A divorce hearing is scheduled for December 12, according to Rolling Stone.
Neil and Daryl recently toured oil sands developments in Alberta, Canada in August, the Vancouver Observer reports.