Michelle Rodriguez, Zac Efron Catch Some Air While Vacationing In Ibiza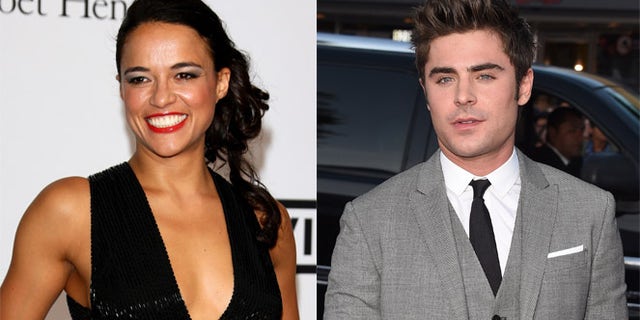 Celebrities have taken over Ibiza and have made it the place to be. From parties to hanging out at the beach, some of Hollywood's biggest names are in the Spanish party town this summer.
Among them actress Michelle Rodriguez and actor Zac Efron, who are continuing their whirlwind romance.
The duo, who made their budding relationship public while on vacation in Italy last month, have been spotted making out at a club, hanging out by the beach and getting their daredevil on with some jetpacks.
Rodriguez, 36, and Efron, 26 indulged in a little flyboarding session with a group of pals on the same boat as Justin Bieber.
Flyboarding, which was invented in 2011 by French jetski champ Franky Zapata, has riders strap their feet into water jetpacks that propel them into the air.
According to the Daily Mail UK, the Dominican-American actress, who rose to fame playing Letty Ortiz in the "Fast & Furious" franchise, had no problem catching some air — even striking the Buzz Lightyear stance with one hand on her hip and the other in the air.
After getting out of the water, the actress spent the time lounging around with friends, sporting a white top with the words "sex, drugs and rap."
The duo also hung out with Oscar-winning actor Jared Leto.
Their friend Mohammed Al Turki posted an Instagram photo of Leto and Efron hanging out, captioning it: "#EpicNight thank you @riccardotisci17 @givenchyofficial and happy birthday with @Jaredleted and @zacefron #YES."
They also met up with pal Paris Hilton.
Follow us on twitter.com/foxnewslatino
Like us at facebook.com/foxnewslatino