Meghan Markle's estranged half-sister pleads for a family reunion
NEWYou can now listen to Fox News articles!
The Duchess of Sussex's sister Samantha Grant is pleading for her to reunite with her troubled family after being inspired by Bishop Michael Curry at her wedding.
Samantha, the daughter of Meghan's stricken father Thomas Markle, was struck by the message of love from the African-American preacher.
After a decade's estrangement, the 53-year-old has now offered to reconcile with Meghan, 36, in order to bring peace to the Markles.
Samantha, who saw Meghan wed Harry on TV at her Florida home, told The Sun: "I watched the bishop talk about love and unity and forgiveness and I hoped it would strike a chord within Meghan.
"So if that was real and if I were to define a principle to all of this then it would be that we all just work for a peaceful resolution and reunion as a family.
"I feel a religious and moral obligation to be open to her and not be vindictive or isolating or hurt.
"This should ride on her conscience as a moral obligation to at some point communicate with me and be united rather than divided — as that was the whole message.
"If she wants to do the morally and religiously right thing then she will and I'm open to that."
The offer to build bridges with the newest royal is a huge U-turn for wheelchair-bound Samantha.
Her relationship with Meghan is so toxic she is writing a book about it, tentatively titled "The Diary of a Pushy Princess."
She added: "I will wait to hear from her. I'm not going to beat my head against a wall.
"If she feels that the Markles are not worthy and excludes us, I think that is going against the tenets of her baptismal vows and everything in the church.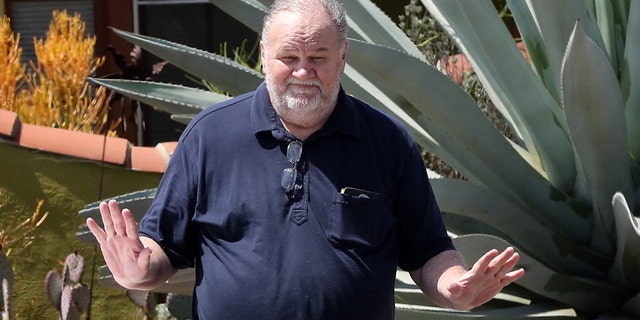 "If you're true in the Queen's church you should practice those principles rather than just speak them."
Samantha revealed Meghan's stricken father Thomas, 73, is now being secretly cared for in LA after he "independently" left his home in Mexico for heart surgery.
She said: "He is still in hospital. He's going to have to be taking blood thinners probably for the rest of his life now, which is hard.
"Clearly it's going to change his whole lifestyle now."
Samantha said Thomas told her "his baby was beautiful" after he watched the wedding on TV.
She added: "He was happy and proud. He's very gentlemanly and chivalrous. It was a beautiful wedding."
Samantha is determined to defend her publicly shamed dad's honor after she encouraged him to set up paparazzi pictures before the wedding.
She explained: "It's sad because he's always going to be regretting that he couldn't walk Meghan down the aisle and feeling socially shamed, unjustly really.
"To do that to a 73-year-old man I think was so incredibly horrible."
She also called on Harry to fly him over once he has recovered — so he can fulfill his lifelong dream of visiting Buckingham Palace.
She said: "I think Meghan and Harry should pick him up in a jet and take him to Buckingham Palace.
"After all he did miss out on the wedding.
"I think he should have lovely tea and a tour."
Samantha is angry there was no public statement made about him at the wedding.
She said: "I know the day is about Meghan and Harry but, had Charles been in hospital with a heart attack, I think there would have been statements released expressing their sadness that he wasn't there."
Samantha was also furious at reports Thomas will not get a coat of arms, unlike other dads of commoners who marry a royal.
She raged: "To exclude him off a coat of arms is really stripping him of an honor and it's a huge insult.
"After a heart attack that would be cruel and isolating."
She said the current tensions involving the Markles are dwarfed by the royals.
Samantha said: "I'm sure the world can say, 'Oh, Samantha is slamming the royals.'
"Well the royals had generations of scandal in their own family.
"You've got inbreeding, you've got substance abuse, you've got alcohol abuse, you've got infidelity.
"On what grounds could the royals feel that the Markles are somehow not worthy?
"That's the pot calling the kettle black."
Samantha also claimed Meghan's mother Doria Ragland "hogged the limelight" at the wedding.
She added: "For people to say she was the only Markle there is inappropriate. She's not.
"She has no business calling herself a Markle anymore."
She went on: "My father has made Meg 99 percent of what she is today, through education, career opportunities, love and nurturing, her great sense of humour, building her self-esteem.
"To omit the person most integral in her development, everybody's hurt by it.
"I'm really upset about the lack of respect for him."
This article originally appeared in The Sun.