Martha MacCallum premiering new primetime show 'The First 100 Days'
NEWYou can now listen to Fox News articles!
Martha MacCallum will kick off FOX News' primetime lineup on Monday with a brand new show -- "The First 100 Days."
MacCallum's program, airing at 7 p.m., focuses on the launch of President-elect Donald Trump's new administration and runs through his first 100 days the White House.
MacCallum currently co-anchors "America's Newsroom" with Bill Hemmer. During "The First 100 Days," FOX News' Shannon Bream will stand in for MacCallum.
"Martha is a versatile and skilled anchor who has proven to be an essential component of our news programming," Executive Chairman of 21st Century Fox Rupert Murdoch said in a statement. "For the last 12 years, our viewers have trusted her reporting and we are pleased she will be part of our primetime line-up for the first 100 days of the new presidency."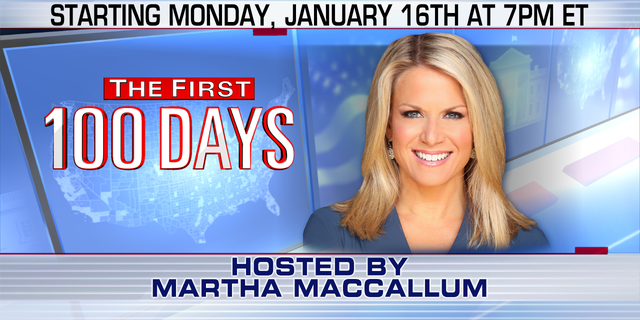 "Tucker Carlson Tonight", which previously aired at 7 p.m., recently moved to 9 p.m., where it is already dominating in the ratings, with its debut almost surpassing the combined viewership of its cable news rivals.
FOX News Channel is the number one network in cable, has been the most watched television news channel for nearly 15 years, and according to a Suffolk University/USA Today poll, is the most trusted television news source in the country.