Macy's severs ties with Donald Trump too, pulls his menswear merchandise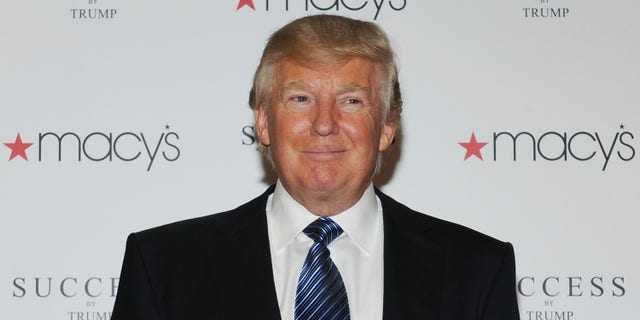 NEW YORK – Macy's is the latest company to sever ties with Donald Trump as the fallout from the mogul's remarks about Mexican immigrant continues to grow.
The chain department store said in a statement Wednesday that it is "disappointed and distressed" by Trump's comments and will end its more than a decade-long relationship with him.
"Macy's is a company that stands for diversity and inclusion. We have no tolerance for discrimination in any form. We welcome all customers, and respect for the dignity of all people is a cornerstone of our culture," the retailer said.
"We are disappointed and distressed by recent remarks about immigrants from Mexico. We do not believe the disparaging characterizations portray an accurate picture of the many Mexicans, Mexican Americans and Latinos who have made so many valuable contributions to the success of our nation."
Macy's has carried a Donald Trump menswear line since 2004, including $70 button down-shirts and $65 striped ties.
The move comes after an outcry on social media, including online petitions, for Macy's to drop the line.
In his own statement late Wednesday morning, Trump said it was his decision to terminate his relationship with Macy's because of the "pressure being put on them by outside sources."
"I have always said that if you are successful, it is very hard to run for office, especially the office of President. I have also continually stated that I am not beholden to anyone and this includes NBC and Macy's," Trump said in a statement released to the media.
"Clearly, NBC and Macy's support illegal immigration, which is totally detrimental to the fabric of our once great country."
The unapologetic Trump said Macy's caved "at the first sight of potential difficulty with special interest groups who are nothing more than professional agitators, who are not looking out for the people they purport to represent, but only for themselves."
"It is people like this that are actually running our country because our leaders are weak and ineffective," he added. "If elected, I will greatly strengthen our border, making it impenetrable, putting a stop to illegal immigration once and for all. I will bring jobs back to the United States — I will Make America Great Again!
Companies have been cutting ties with Trump left and right after his presidential campaign kickoff speech last week in which he declared that some Mexican immigrants crossing the border into the U.S. are rapists and bring drugs and crime.
Spanish-language station Univision was the first company to cut all ties with Trump, who is suing the network for $500 million for breach of contract for dropping the Miss USA and Miss Universe pageants. NBC, TV company Ora TV and Mexican TV network Television announced Monday they were cutting ties with Trump as well.
Additionally, Mexico and El Salvador have pulled out their representatives from this year's Miss Universe pageants while actress Roselyn Sanchez and singer J Balvin dropped out from participating in the Miss USA pageant slated for July 12.
Fox News' Christopher Snyder contributed to this report.
Like us on Facebook
Follow us on Twitter & Instagram