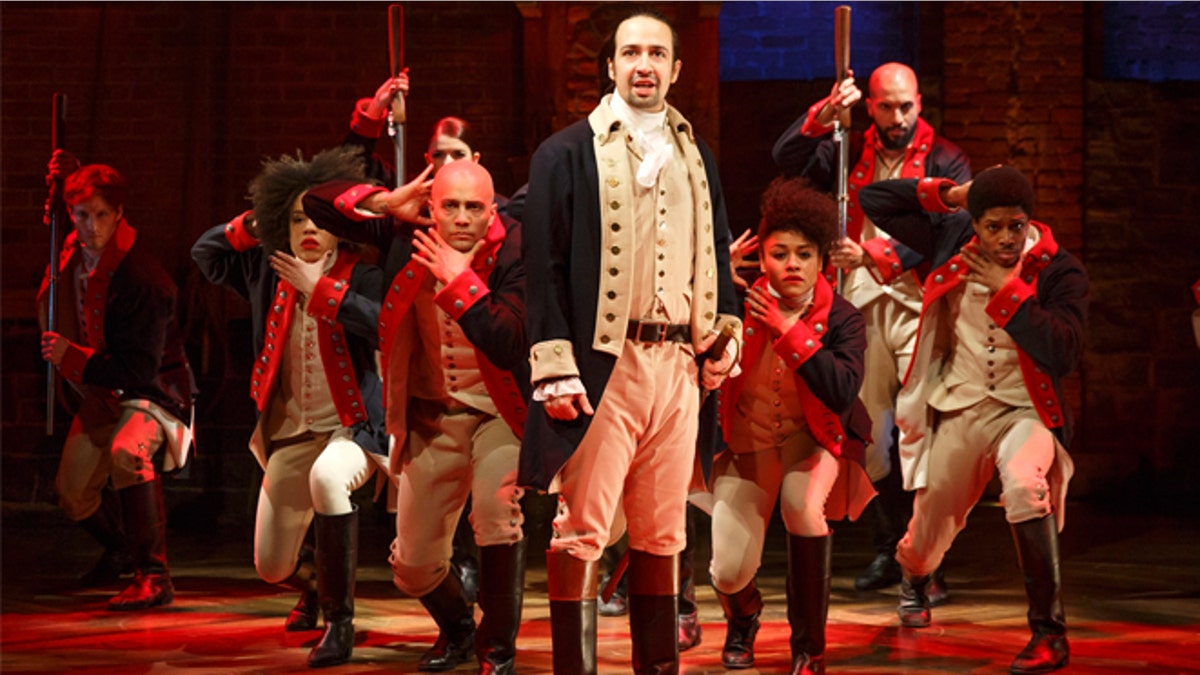 NEW YORK (AP) — – Alexander Hamilton's face proudly adorns the $10 bill. But it's hard to imagine the founding father and treasury secretary, with all his famous ambition, ever anticipating just how many of those bills people would delightedly fork over one day to see a musical about his life.
With Lin-Manuel Miranda's red-hot, rap-and hip-hop infused "Hamilton" set to end its off-Broadway run this weekend, some theatergoers have been paying well over 10 times the $120 ticket price for the privilege of seeing it before it reaches Broadway this summer. And fans with lower budgets have been waiting for hours on end in the Public Theater lobby to score a prized $20 lottery ticket or an even rarer standby ticket.
All this despite the announcement on Feb. 24 that the show was moving to Broadway in July for an open-ended run. That, it turns out, only increased demand for tickets off-Broadway. People, it seems, wanted to see it in the original "room where it happens," to quote a song from the show sung by Hamilton nemesis Aaron Burr.
"People want to be able to say, 'Oh, I already saw that downtown,'" quips Peter Breger, president of the Off-Broadway Alliance and a longtime producer and entertainment attorney.
Miranda, who wrote and starred in the Tony award winning musical In the Heights, is now receiving an intense level of fan fare for Hamilton just take a look at his Twitter feed.
Art historian Mary Emma Harris, 71, arrived at the Public a little before 6 a.m. Wednesday to try for a standby ticket. "I was determined to see it before the Broadway move," she says. She calculated that being first in line for one of a couple of standby tickets gave her better odds than the in-person lottery, which draws hundreds of people daily for an undetermined number of seats (There's also a virtual lottery, for only two seats per performance.)
Harris drank coffee and read the paper until 7:00 when the doors opened, then spent most of the next 12 hours proofreading academic papers. Ten minutes before showtime at 7:30 p.m., to cheers and congratulations, she got one of three last-minute tickets, at the regular price.
"It was totally worth the time," Harris says, "and I would do it again, if the show wasn't closing so soon."
She's in good company. "I would go every week if I could," says actress Sarah Jessica Parker, who finally saw "Hamilton" last week after putting herself on "every wait list I could manage," along with the rest of the public. Parker says she understands why demand for the off-Broadway run has only risen since the Broadway move was announced.
"You want to see it in its original form at the Public," she says, noting she's heard that producers might be making some adjustments for the Broadway run, perhaps shortening the show. "It's like having seen 'A Chorus Line' before it moved to Broadway" — a reference to the iconic hit that also began with a sold-out run at the Public, 40 years ago to the month.
On the StubHub resale site, demand for tickets shot up by 50 percent when the Broadway transfer was announced, a spokesperson says, going to an average of $700, from $543 before the announcement. The top price paid on StubHub for a single "Hamilton" ticket? That would be $1,760 — even though the Broadway tickets are on sale now for about $150 (regular orchestra) or $277 (premium seats).
To compare it to one of the hottest tickets on Broadway — "The Book of Mormon," which opened in 2011 — that $1,760 "Hamilton" ticket was more than $300 higher than the highest priced "Mormon" ticket purchased this year.
"Fans are probably enticed by the novelty of seeing it before the masses do during its run on the Broadway stage," says Jessica Erskine, senior manager for media and industry relations at StubHub.
The Public has extended "Hamilton" three times. The last time, on Feb. 4, heavy traffic for ticket purchases temporarily shut down the website.
A huge stream of celebrities and theater insiders have made it down to the theater — those able to score one of the 299 seats (less than a quarter of the capacity of the Richard Rodgers Theatre, where it moves next.) The theater necessarily has had to deny many ticket requests. "They're like, please don't even ask," Breger laughs.
Hugh Jackman tweeted last week: "One of the best shows ever." Jimmy Fallon sent the cast sweets, and waxed rhapsodic on "The Tonight Show." Julianne Moore and her husband sent fruit. Other attendees: Paul McCartney, Julia Roberts. Stephen Sondheim, Andrew Lloyd Webber (who called the show "a game-changer.") Robert De Niro. Jerry Seinfeld. Billy Crystal.
And the Clintons — Bill, Hillary and Chelsea. And Michelle Obama. And Madonna, who according to published reports spent the second act texting, though her publicist has denied it. Miranda tweeted that he had not allowed a certain celebrity backstage — he didn't name her — because they were texting. He later deleted the tweet.
All the demand has been extremely rare for an off-Broadway show, says Breger.
"But pretty much everything about 'Hamilton' is unprecedented, isn't it?" he adds. "It's quite the toast of the town."
Reporting by the Associated Press.