Lin-Manuel Miranda heading to big screen in 'Mary Poppins' sequel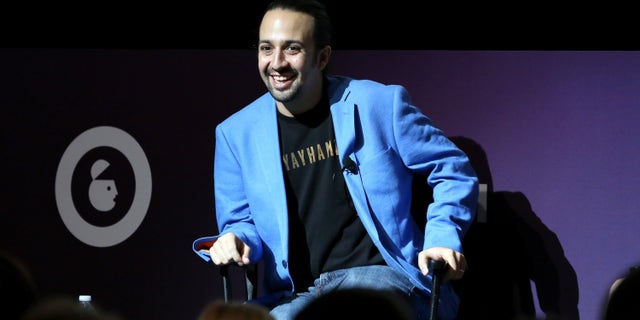 NEWYou can now listen to Fox News articles!
Lin-Manuel Miranda is bringing his musical talent to the big screen for the Disney sequel to "Mary Poppins."
Walt Disney Studios announced Tuesday that the "Hamilton" creator and star would join "Into the Woods" star Emily Blunt in the sequel about the P.L. Travers-created English nanny. It will be called "Mary Poppins Returns."
Directed by Rob Marshall, the film will center on a now-grown Michael Banks and his three children and the help they get from Mary Poppins in Depression-era London in the aftermath of a tragedy. Miranda will play a new character, Jack, a street-lamp lighter.
Much as in the original 1964 film version, Mary Poppins and Jack will help the Banks family rediscover the joy and wonder now missing in their lives.
The film is scheduled to hit theaters on Dec. 25, 2018.
In addition to "Mary Poppins Returns," Miranda has a second film project in the works. His Tony Award-winning musical, "In the Heights," is going to be adapted to the big screen.
The bodega-set musical about Washington Heights, a primarily Latino community in northern Manhattan, is in the works at the Weinstein Co.
According to the Hollywood Reporter, Miranda will be deeply involved in the project; however, it's unclear if he will star in the production as the 36-year-old is now 10 years older than the character he originally portrayed.
"As a kid from Queens, I've always loved bringing New York stories to film," Harvey Weinstein said in a statement. "'In the Heights' and Lin-Manuel brought Washington Heights to Broadway back in 2008 and, in the process, turned the theater world on its head. The movie musicals of the 1950s were incredible, but 'In The Heights' will revolutionize what movie audiences expect from the genre."
The film adaptation was initially in development at Universal, but the studio opted not to make it. That decision was met with surprise considering the success of the stage version, as well as the increase in Miranda's fame thanks to the massive attention garnered by "Hamilton."
The Associated Press contributed to this report.